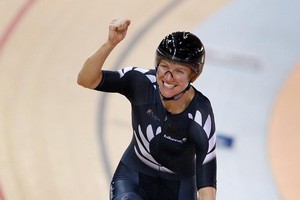 If pushed for an answer, Commonwealth Games gold medallist Alison Shanks would give herself "about an eight out of 10" this year.
That might seem a modest assessment, considering her haul of medals. But then Shanks sets the bar high.
The former netballer shocked the cycling world with her rapid progress from enthusiastic amateur to world champion in four years. Her gold medal in the individual pursuit at the 2009 world championships set her on a course to follow in the footsteps of Sarah Ulmer and win Olympic gold.
That path was suddenly cut off when the event was dropped for the 2012 Olympic programme - a decision Shanks says she will probably never get over.
Rocked, but determined to stick with the sport she loves, Shanks pushed on with training and re-set her compass.
Perhaps the disappointment took more out of her than she was prepared to let on, or maybe she just had an off day, but the year did not get off to very good start.
"It has been a bit of a mixed bag, I guess," Shanks said.
"It started off with a fourth place at the world champs, which I was pretty disappointed with, really.
"When you go in as defending world champion you always have high expectations.
"But that disappointment helped kick start things for Delhi [Commonwealth Games] and helped stimulate that real motivation to go and get the gold there."
Fresh from her Commonwealth Games gold medal ride, Shanks beat the same rider - Great Britain's Wendy Houvenaghel - in the final of a World Cup event in Colombia last week to round out the year nicely.
There were also some impressive rides with the New Zealand women's pursuit team. The team won bronze at the world championships in a world record time and won gold at the World Cup meeting in Cali, Colombia.
Worth more than eight out of 10? Shanks demands more out of herself.
While happy with her gold medal ride in Colombia, her winning time was not quick enough.
She was desperate to dip under 3m 30s.
The 28-year-old recorded a time of 3m 29.8s when she won the world championship in 2009 and has not been able to better that time since. And it is grating on her.
"I was pretty disappointed not to beat that time in Cali. Two weeks before going I wouldn't have thought I'd ride 3m 30s because it was early in the season for me. But I rode 3m 30s in the first round and my expectations changed. I was gutted. I've rode 3m 30s so often that I just wanted to get into those 20s again."
Shanks gets up to an average speed of about 52km/h. So the difference between the sort of time she has been recording and cracking 3m 30s was about the length of her bike, she said.
But her main beef is still with the International Olympic Committee for cutting her event.
"I don't know if I will ever get over it. It hurts, you know. They say it takes one Olympics to then be able to perform at a second. Having got so close at my first Olympics (Beijing) with a fourth, I really wanted that opportunity to go back and prove myself a second time.
"But I suppose I'm lucky in that we have the team pursuit."
The women's pursuit team has the potential to help Shanks get that Olympic gold medal she has dreamed of winning. And there is some comfort in that thought.
- Otago Daily Times