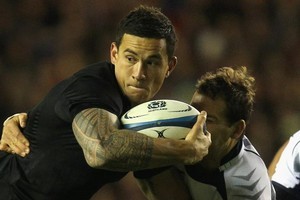 Every Rugby World Cup throws up players who take the tournament by storm. Gregor Paul runs his magnifying glass over the top 10 contenders for September.
1 Sonny Bill Williams (NZ)
He's not quite a secret weapon, as the world got a look at him in November. But the All Blacks are sure they have only so far seen the tip of the Williams iceberg.
With a Super 15 campaign behind him, he'll be a different player again. He is still a baby in terms of rugby experience, yet he learns incredibly fast. Even though everyone knows he is going to offload, there isn't much they can do about it. That's the problem - he's 110kg, 1.94m and ludicrously gifted. But by September next year, there should be more to his game. We haven't seen him challenge defences with his running. And he can run. We haven't fully seen how the All Blacks will involve him more - they want to keep some of their ploys under wraps until the World Cup.
Williams looks to be the most exciting attacking player since Jonah Lomu - and we all know what he did at World Cups.
2 Kurtley Beale (Australia)
There were plenty of people waiting for Beale to be exposed as a flake at some point in the season. They kept waiting and waiting and, by November, when Beale was the best attacking back in Hong Kong (again... as he had been in the Bledisloe clashes in Sydney and Christchurch), it was apparent he was a world-class fullback.
He skinned Conrad Smith twice in one game and the All Blacks struggled with him all year. He is frighteningly quick, organised and boots the ball a mile. He can goalkick under pressure and he is pretty hard to put
down, even when the defender is in the right place.
Just ask Isaia Toeava.
3 Courtney Lawes (England)
England are sure they have found their new Martin Johnson in Lawes and they might be right. He's only 21 but he stood up to Victor Matfield and Bakkies Botha at Twickenham recently in a way that said he not only didn't fear them, but was sure he was better than them.
He played superbly and there is a physical edge to him as well as having the same sort of mobility and ball skills as Isaac Ross.
Lawes has played plenty of club football at blindside so he gets around and makes big tackles. Yet he looks every inch the lock when he is in the middle of the lineout or hitting rucks. He also fancies himself as a hard man and the way he puts himself about, no one should doubt that he is.
4 Brian O'Driscoll (Ireland)
In Ireland, there are all sorts of mumblings about O'Driscoll being as broken as their economy but the skipper showed there is life in him yet when he scored a glorious try against the All Blacks and led an Irish attack that had New Zealand scrambling.
O'Driscoll is acutely aware of his legacy - that he is seen as the best player ever produced by Ireland (even better than Mike Gibson). He needs a big World Cup to cap it all off before he retires, as he is expected to next year.
The Irish were distraught at the way 2007 went - failing to get out of their pool - and they want to put that right. O'Driscoll still has a few big games left in him and, while he might not be as quick, he still runs the right way, finds himself in the right places and his micro-skills are sharper than ever.
Expect him to be immense in September next year.
5 Bismarck du Plessis (South Africa)
It's not easy for hookers to stand out as key influences but du Plessis manages that. Pound for pound, he is the best ball carrier in the game and the Boks take inspiration from what he does.
His power is freakish and he is the man who not only gets them going forward in the loose but is the organiser and core driver of their rolling maul. He also throws the ball to the lineouts every time and brings snap and snarl in the scrums and in the collisions.
He missed the tests against New Zealand in 2010 because of injury and with him back, South Africa will be a different team.
6 George North (Wales)
Not content with unearthing one teenage superstar in Tom Pyrdie, Wales have potentially found another in 19-year-old George North. He looked a player of immense promise when he scored on debut against South Africa and several times shot through holes and around defenders as if they weren't there.For a young man, he was surprisingly strong and undisturbed by the jump to test level. He took his try so well against the Boks - he hit the ball at the right time, chose the right angle and was confident enough not to look back but just go for the line.
With more game time under his belt and as part of a Welsh team that will have taken much from their last game against the All Blacks, he'll be a handful; he kind of wing New Zealand audiences will enjoy and respect.
7 Ben Foden (England)
It seems scarcely believable, almost wrong even, to be talking of an English outside back as a potential star of the World Cup. It has been a while, possibly not since William Webb Ellis, that the English had such a good runner. Foden is a livewire at fullback. He is electric off the mark and hungry to be involved. He gives England a new dimension with his counterattacking and ability to take them from their own territory into the opposition's. He is also brave, as he showed when he managed to halt and drive a rampaging Pierre Spies into touch. His presence is encouraging England to keep the ball in hand and try to create space for him to exploit.
8 John Barclay (Scotland)
It's often hard for Kiwis to appreciate opposition opensides because they have Richie McCawas the benchmark and no one, really, is going to live up to his standards. But Barclay gets close and, even when Scotland were being pummelled by the All Blacks in November, there was the lone figure of Barclay fighting the good fight on his own. The following week, he was seriously good against South Africa. He has the pace and aerobic capacity of the best. He is fearless, times his work on the ground as well as David Pocock and is probably the biggest tackling No 7 in world rugby.
At just 24, the World Cup will be his time to shine, especially if Kelly Brown and Johnny Beattie are fit to form the 'Killer Bs' loose trio.
9 Hosea Gear (NZ)
It turned out to be an incredible year for Hosea Gear after being strangely ignored by the All Black selectors until November. All Black coach Graham Henry joked that even his own mother nagged him about why he wasn't picking Gear. When Henry finally relented, the nation saw a young man who has refined his game, built his confidence and come to grips with what it takes to play test football.
The All Blacks used him well; cleverly.
Sometimes he was the target man, crashing into midfield, staying on his feet and other times, he was the finisher, his pace, strength and agility making a frightening combination. He'll score tries for the All Blacks, he'll beat players, he'll defend well and, by the end of the World Cup, he'll be recognised as one of the best wings.
10 Seilala Mapusua (Samoa)
Many New Zealanders will remember Mapusua as a strong and reliable presence for the Highlanders and Otago. What they might not realise is that he has matured and developed into a world-class player since he left for England. At 102kg, he lacks electric pace but he is physical and direct and troubles inside defenders with his power and offloads. But his real value is his defensive clout. In the recent November tests, he buried players across the UK. He lines them up and smashes them down and gives Samoa that intimidating presence they like to have - a bit like the old days with Brian Lima, aka The Chiropractor. He is the director and organiser in a creative backline that is poised to cause problems in New Zealand next year.