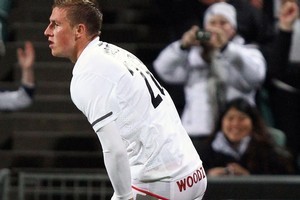 Highlight
There were many great moments in 2010, including Winston Reid's last-gasp equaliser against Slovakia, Mark Paston's goalkeeping at the World Cup and the Wellington Phoenix's incredible run to just one game short of the A-League grand final but one stands out - the 1-1 draw with Italy.
This draw was really a victory for the All Whites and gave them instant credibility around the world. The fact they finished ahead of Italy in their group made it even sweeter.
Lowlight
The Wellington Phoenix went into this season's ALeague competition as one of the favourites and the public face of the game. Just when they needed to perform to keep football at the forefront of people's minds, they have fluffed their lines.
It hasn't helped that they play against the backdrop of club owner Terry Serepisos' cash crisis. He is admired for saving professional football in this country but there are many who wonder whether he can save himself as creditors line up to knock on his door.
Player of the Year
There is only one contender- Ryan Nelsen. People can now appreciate just how good Nelsen is and how well he has done to sustain a career in the English Premier League. Just six Kiwis have played in the world's best competition but the other five - Lee Norfolk, Danny Hay, Simon Elliott, Chris Wood and Winston Reid - have played just 26 games between them. Nelsen has played nearly 160 top-flight games; captain in many of them.
The 33-year-old has been the most influential All White in New Zealand football history. There have been others who have been more skilful and successful but none as important as Nelsen.
Wynton Rufer will remain our best player but New Zealanders rarely saw him in his prime and he wasn't a leader who could inspire like Nelsen.
Honorable mentions go to Mark Paston and Simon Elliott.
Quote of the year
"The Italians were diving around like little girls."
You gotta love Rory Fallon.
Disaster averted
Winston Reid's goal against Slovakia was a time for wild celebrations but it almost ended badly. In Shane Smeltz's frantic efforts to celebrate the goal, he almost pushed himself and Reid into a moat that surrounded the running track at the Royal Bafokeng Stadium in Rustenburg. Only some restraining action from team-mates helped them avert a 5m drop.
Let's hear it for the girls
The Football Ferns had a good year; largely unnoticed because of what the All Whites achieved. They slot in at No 23 in the world rankings but beat Italy (11), drew with England (10), the Netherlands(15) and South Korea (18) and knocked in 50 goals (to none conceded) in qualifying for next year's World Cup.
Amateur hour
Andy Barron was the only true amateur to play at this year's Word Cup when he came on for four minutes against Italy. Coach Ricki Herbert might have been making a political statement but Barron doesn't care. The banker will surely become the answer to a quiz question in years to come.
Best goal
While Reid's and Smeltz's goals at the World Cup were the most important, they were by no means the best.
Nick Ward's drive against Sydney, Eugene Dadi's bicycle kick against Brisbane, Kosta Barbarouses' 30m goal for Brisbane against Adelaide and Tim Brown's beautifully-crafted strike against Melbourne were meritorious - but the best was Paul Ifill's against Central Coast earlier this season.
Most would have curled the ball past the keeper with the inside of their right foot. Not Ifill.
He drilled it with the outside of his left. Quality.
Worst goal celebration
The game has taken a wrong turn when youngsters think they can drop their pants and jiggle around but that's exactly what Chris Wood did after scoring his first goal for the All Whites in the 1-1 draw with Honduras in October.
The 20-year-old had 'Woodzee' emblazoned on the back of his briefs and he wanted everyone to see. Nelsen, who has played with some brazen footballers in his time, didn't know what to do.
What made it worse was that Wood said the daks had been a present from "one of my missus"'.

How many have you got?
Most bizarre sight
The All Whites got a sense of the dichotomy of a World Cup in South Africa.
As they enjoyed life in their Fifa bubble, complete with armed guards and five-star accommodation, they trained in the township of Daveytown, north of Johannesburg.
The facilities were perfectly satisfactory but their first session in the Republic was interrupted by dense smoke from household fires wafting across the ground.
The World Cup was clearly a big deal for South Africans but daily life was even bigger. The All Whites didn't train at night in Daveytown again.
Prediction for 2011
The Phoenix will scrape into the playoffs but go little further; Waitakere will win the double (ASB Premiership and O-League); the Football Ferns will qualify for the second round at their World Cup; and the All Whites will have little trouble with their opening World Cup qualifiers at the end of the year.