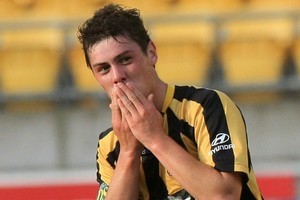 The loss of talismanic midfielder Paul Ifill, whose ankle injury will sideline him for six weeks, has been softened by the impact of youngster Marco Rojas - but it is anyone's guess whether the Phoenix can hang on to the talented tyro.
The 19-year-old, who has Chilean heritage, was a standout performer in his starting debut in the 4-0 win over the Jets, displaying flair and dribbling ability rarely seen on these shores.
Rojas came to the Phoenix on a Yellow Fever scholarship in July 2009 - signing for two years after a one-week trial - but has had a tough initiation.
"His talent was obvious when he came in but after a month, he just sort of disappeared," remembers Phoenix midfielder Tim Brown. "When there are 18 other professionals kicking you, not doing [you] any favours and fighting just as hard, it is tough.
"I've seen so many people come and do it for a month and think it is fantastic but there are harsh realities. It hits home in the middle of pre-season with a freezing cold southerly at Newtown Park or when you don't make the squad for a month and are niggled by injuries."
According to Brown, the experience has made Rojas tougher, stronger and a more complete footballer.
"There is the daily grind of doing this job which is mentally really tough. He has got back and none of that has been given to him on a plate. Apart from a couple of injuries, he has [also had] a few boys get stuck into him at training and learned how to react to that."
At 1.68m and 68kg, Rojas will be an obvious target for physical intimidation but Brown is confident he can handle it.
"I'm sure the North Queensland fullbacks are already thinking about kicking him six feet up in the air as soon as he comes on the field. But he has the skill to go with it and is quicker than anyone with the ball. He will learn and some of the treatment dished out to him at training - not with any malice - will stand him in good stead."
Rojas, who is off contract at the end of the season, is attracting attention around the A-League and has been non-committal about his future, apart from saying he feels loyalty towards the Phoenix.
Local fans can only hope that financial woes at the club don't mean another Kosta Barbarouses, who is now starring for Queensland. Rojas is eligible for Chile as well as New Zealand but has yet to declare any international intentions.
"His skills on the ball are a match for anything in the A-League and possibly has the potential at a higher level again," says Brown. "We need to be cautious about the hard work ahead but his character should stand him in good stead. He has a fantastic future if he continues to put in the work."
The Phoenix are one point out of playoff contention but there is a logjam, with just two points separating the four teams from fifth to eighth. The teams above them have games in hand, so every match, starting with tomorrow night's against North Queensland become crucial.