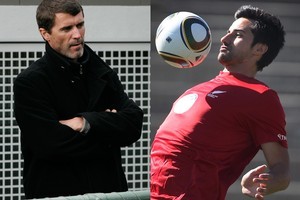 If All White Rory Fallon is to fulfil his dreams of playing in the English Premier League he could have no better inspiration than former Manchester United star Roy Keane, according to his father.
Fallon joined Ipswich Town on loan from Plymouth Argyle last month and although he is due to return on January 22, he is hoping to make the move a permanent one.
The 28-year-old has started twice and come on as a sub in two games for Ipswich, but is yet to find the back of the net for his new club, although set up two goals in last weekend's 3-0 win over Leicester City.
Fallon recently compared Ipswich manager Keane to his father, telling fansite TWTD "he's got that look, you know, that glare. There's so much passion for the game inside Roy, he's been a breath of fresh air for me".
Kevin is honoured to have the comparison made.
"I agree with what he said - I take it as a compliment," he says. "He's opinionated - he's not a shrinking violet."
The assistant coach of the 1982 World Cup qualifying All Whites, Kevin coaches at Mount Albert Grammar School, where he once had his son under his wing.
"If he played well he got told. If he played badly he got told."
"That's probably what Rory sees in Roy Keane. We've got similar traits. Let's get on with it - we are there to win."
Kevin says his son has a lot to learn from Keane, who scored 33 goals for Manchester United in 323 appearances and played 67 international games for the Republic of Ireland.
"You think he would have a lot to offer, no matter what he says to you, because of the players he's been around. You can only improve being around that sort of player."
With Ipswich languishing at 17th on the Championship table, Kevin said it would be a shame if Keane was ousted.
"He's very young for a coach. He's had success as a player and he will as a coach, if he is given a chance."
Kevin, a staunch Manchester United fan, confesses Keane is his favourite player.
"He was 100 per cent competitive, a great tackler," he says. "When [Rory] went [to Ispwich Town] I told him he will have to get him to sign my [Manchester United] books.
"One day I'd love to meet him."
Fallon has said he dreams of one day playing in the English Premier League and his father says he has the self belief and talent to do it - but he will need some luck too.
"I look at the Premier League and sometimes I look at the players and some are lucky to be there," Kevin says. "He's a target man. He has got to find someone who likes that system [of playing]. It's got to be a 4-4-2 system."
As a target man, Rory's strength is laying off the ball for his teammates, but Fallon says he has got to find the back of the net more frequently.
"When he was younger he used to turn players well. I'd like to see him do that more," Kevin says.
"He needs to score every three or so games."
In the World Cup this year, Fallon was frequently pulled up by the officials for high elbows while competing for the ball. Kevin says his son was unfairly targeted by the experienced Italian players.
"That's the way he plays, he has been told to put his body about. [Against Italy at the World Cup] he was whistled out of the game."
Apart from a recent hernia operation, Kevin says his born-again-Christian son is very fit.
"He lives a clean life - he'll play till he's 34 or 35.
"For me, he's done well if he plays til he's 34 - I don't care if its at Timbuktu - as long as he plays hard and enjoys his football."
He says the next few weeks will be a challenge for his son, as his contract with cash-strapped Plymouth Argyle is due to end next year means the need to impress at Ipswich Town while on loan is all the more important.
"It heas been a good move for Rory - he's now in the championship and playing under a legend," he said. "It would be a great move if he could [stay at the club]."
Ispwich Town already has a strong Kiwi connection, Kevin says, with Fallon's fellow All White Tommy Smith at the club, Lee Norfolk having played there in the mid-90s and MAGS teenager Monty Patterson getting picked up by the team's academy.
"I know Tommy very well," Fallon says of the defender who played for Westlake Boys High School against his MAGS teams.
"I always wanted him in my side."
Kevin speaks highly of Patterson, who he trained at MAGS and is confident will become a professional football and All White in future years.
"It would be nice if we could get three Kiwis [in Ipswich's senior team]," he says. "If I could put my money on one player ... he will definitely do something."
Despite a coaching career stretching 30 years, Kevin's love of coaching the beautiful game is as strong as ever.
"I've never changed," he says. "I can't wait for the New Year, I can't wait for the next group of kids.
"I love watching football, I love coaching football, I love talking football.
"It's about the fantastic little things. I don't need anything else."