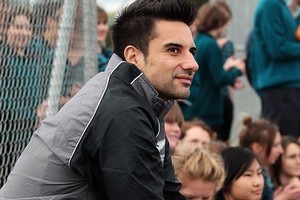 All Whites striker Rory Fallon says Ipswich Town football boss Roy Keane reminds him of his father.
He was interviewed by a website dedicated to the Ipswich football club, whose nickname is the Blues.
They play in The Championship - the division one down from the elite Premier League.
Fallon has now made two starts and two sub appearances for the Blues, on loan from Plymouth. He hasn't got on the scoresheet himself yet, but has played a part in setting up two of the goals his team's scored.
The Kiwi says words of encouragement from a legend like Keane have been a boost.
"He's given me some praise and that's given me some confidence. You can tell he watches every move you make.
"He reminds me of my dad actually, the fierceness of him. He's got that look, you know, that glare. There's so much passion for the game inside Roy, he's been a breath of fresh air for me.
Kevin Fallon's played a hugely instrumental role in New Zealand football, since being assistant to John Adshead in the All Whites' unforgettable 1982 World Cup campaign.
He's also had great success with national youth teams like the Under 17s, and his youth development programme at Mt Albert Grammar School.
He carries a reputation of being a fierce taskmaster with a menacing scowl for those who fail to meet with his approval.
Roy Keane was a star for Manchester United and Republic of Ireland before moving into a coaching role at Ipswich Town.
He also has a reputation for a short fuse - and no time for fools.
Keane was impressed with the 28-year-old New Zealander's performance against Leicester last weekend (Ipswich won the match 3-0 in freezing conditions), but concedes his recruitment may have surprised many fans.
"Rory did well. Rory gives us something different.
"I know people have been raising eyebrows since we brought the boy into the club. He's come in for five or six weeks and let's give the boy a chance. He's something a little bit different."
Keane told the website he needed to add to his attacking options with so many regular strikers unavailable to the club for a variety of reasons.
"Rory seems a nice, genuine kid and I think he's doing an honest job", Keane told the website.
For his part, Fallon is hoping to do enough to persuade Keane to make his move permanent.
"I realise Plymouth are struggling for cash and they probably needed to get me off the books. I'm still on loan and this thing isn't 100 per cent on, it really depends on my performances. But he's not expecting miracles of me, just to do what I usually do.
"The way Plymouth are going, they're absolutely struggling for cash and it looks like they could be going into administration, so I think they're going to try and sell all their main assets.
"We'll see, I'm just taking one day at a time. You just don't know what will happen in football and all I can do is take each day as it comes and give this opportunity 100 per cent because if that's not enough, at least I know I can go away happy."
Fallon, who has scored three goals in 10 games for New Zealand including all three matches at the World Cup, is yet to open his account with the Blues.
He admits he'll have to increase his hit-rate if he is to fulfil his ambition of playing in the Premier League: "Target men like me will always get stick because they don't score goals every game.
"They're usually the ones that other people play off, often sitting deeper to flick on. I don't think a lot of people really know what the position of a target man is all about.
"But the difference between a Premier League striker and a Championship striker is goals. Until I start scoring a lot of goals it will be tough to get into the Premier League. That's what it's all about. I know I can play in the Premier League because I've played against those guys before", Fallon told the ewbsite.
Fallon will be with Ipswich until January 22, when his loan expires.
"Then it's up to Roy, whether he wants to extend the loan to the end of the season or buy me in January when the transfer window opens again."