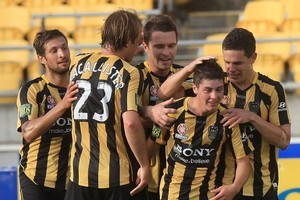 Graham Henry and co. employed their rotation policy a few years ago and were heavily criticised from many parts of the country.
It was a new strategy to keep players fresh and free from potential injury for major games. It also provided them the opportunity to play key personnel for different games.
Rotation in the top leagues of football is a necessity. Squads become bigger to accommodate the many fixtures and demands of numerous competitions. Clubs can often find themselves playing up to 60 plus games in a season.
This amongst other things of course provides the clubs with more revenue through the turnstiles and therefore has commercial significance.
More money quite often means more players and higher wage demands as we see throughout Europe and in particular the UK where a club like Chelsea will play EPL, FA Cup, League Cup, Champions League and potentially the Club World Cup.
During this period players also have national team commitments.
That is why you will often see clubs rotate their playing squads on a weekly basis. Keeping their squad's fresh and injury free is imperative to a winning team.
The Phoenix head into a do-or-die run of matches without two leading players, Paul Ifill and Mark Paston. Both are due to spend a number of weeks on the sidelines nursing leg injuries.
Do the Phoenix posses the squad depth to compensate for these two massive losses? Looking at last week's game you'd have to say that the stocks look pretty good. I witnessed a certain swell in responsibility in each player to try and erase the thought of losing your best player.
That eagerness to fill the void should inject the squad with new found optimism and belief that they have the ability to get results with a reshuffled line up.
If you look across the league many teams have seen their star players taking a spell in the stands.
The Melbourne Victory will be without Archie Thompson with a hamstring injury for the coming weeks. Thompson has just returned to fitness this season after spending a frustrating time rehabbing a broken leg. Adelaide captain Travis Dodd has also been missing for parts of the season along with young gun Matthew Leckie.
Marquee man Nicky Carle was bought to Sydney to provide the spark post the retirement of Steve Corica but he too has struggled with both injury and form. One player's misfortune is another one's gain.
At the 'Nix someone like Chris Greenacre or Dylan Macallister should get more game time. If Marco Rojas can find his feet on a consistent basis he will give Ricki Herbert a serious headache. Let's give the kid time to settle in. He's done fantastically well coming off the bench then starring in their 4-0 win over the Jets
The A-League heads into the Xmas period with all bar two places - possibly three - up for grabs in my opinion.
Gold Coast Utd sit in 4th spot with 33 points, 7 points ahead of the Melbourne Victory in 5th with a game in hand. 35 points will probably land you a finals birth.
The Phoenix sit in 7th on 25 points from 21 games and are poised to scrap for a finals spot.