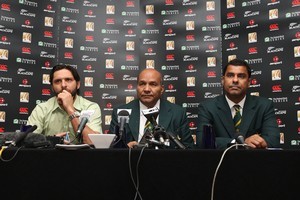 Pakistan are looking forward on their New Zealand tour; it's eyes front, no glancing over their shoulders.
Manager Intikhab Alam and coach Waqar Younis stressed the desire to play strong, competitive cricket on their tour, which includes three T20s, two tests and six ODIs.
But hovering like a dark cloud in the corner of the press conference room yesterday was the spectre of spot fixing, allegations against several Pakistani players in the last few months which has thrown a harsh light on the country's cricket.
The avuncular Intikhab and former speed legend Waqar fronted the issue head on, but were reluctant to rake over the ashes of one of the grimmest periods for Pakistani cricket.
Three players, former captain Salman Butt, Mohammad Asif and Mohammad Aamer, will find out on January 6 whether their present suspensions imposed by the International Cricket Council over fixing allegations against England earlier this year will become bans.
Several other players are under investigation, but the present team management's attention is more directed at on-field activity.
"We're obviously all very concerned with what happened in the past," former test captain Intikhab said.
"But we are here to look forward. Everybody has been briefed; everybody is very clear in their minds what is expected.
"There's no doubt in my mind we cannot afford any more such unfortunate incidents."
Waqar, who took 373 wickets in 87 tests at 23.56 apiece in a memorable career, is clear in what he wants - and doesn't want - out of the tour.
"Plenty has happened in last eight to 10 months but we all focused. We don't want any of this rubbish which has happened in the past," he said.
"We have to make sure we play clean cricket. At the moment we are a very clean side and the boys are here to play good cricket."
While he wants Pakistan to be successful in all three formats, Waqar admitted that his mind is at least partly on the World Cup, starting in Sri Lanka, India and Bangladesh on February 19.
"We want to try and make sure we play the best cricket we can in this series and also be prepared for the World Cup," Waqar said.
"It is in our part of the world and it's a very important tournament.
"All formats of the game are important and we want to make sure we deliver in all three forms."
Both men pointed to the historic difficulty of beating New Zealand in home conditions - while noting their hosts' dismal record of late.
"They haven't been the best side when they go abroad, especially to the sub-continent," Waqar said.
"This is an opportunity for us but we don't really forget that New Zealand in their own country are a fine side so we've got to make sure we do the basics right."
The Pakistanis spent a week in camp before flying to New Zealand, and the spirit and desire are good.
Their most recent series against South Africa in Dubai last month produced a creditable 0-0 test series draw and a respectable 3-2 loss in the ODIs to one of the game's best countries.
There were enough positives out of that to give Pakistan's players some self-belief.
"It was a morale booster after all we went through [in England]," Waqar added. "We played some decent cricket in the one-days and tests.
"We never got into a position of winning the tests, but showed some guts and managed to get draws."
Pakistan arrived without their security manager, Khawaja Najam Javed, who resigned after "differences of opinion" with the Pakistan board's controversial chairman Ijaz Butt.
Their tour starts with a T20 game against Auckland at Colin Maiden Park on Thursday.
Pakistan have named their test squad with the ODI group not yet finalised and possibly awaiting the outcome of the ICC hearings on Butt, Asif and Aamer.
BINNING THE RUBBISH
* Pakistan arrive insisting their squad are "clean" and want an end to the "rubbish" involving alleged spot fixing earlier in the year.
* Their three suspended players, Salman Butt, Mohammad Asif and Mohammad Aamer, find out on January 6 whether they are banned from cricket.
* Pakistan's tour starts with a T20 game against Auckland on Thursday.