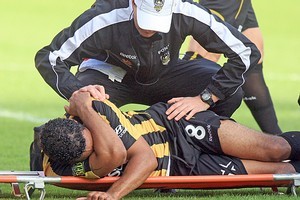 The immediate future of Paul Ifill, and to a large extent that of the Wellington Phoenix, in soccer's A-League will become clearer tomorrow when the club's leading striker has an MRI scan on an injured leg.
Ifill looked in considerable pain as he was carried from the ground during last night's 4-0 thumping of the Newcastle Jets here and, though x-rays last night cleared him of a significant break just below his left knee, the extent of his injury remained unclear today.
A team spokesman said Ifill was in some pain and had not slept well last night, but the English-born Barbadian, scorer of a club-high 13 goals last season and the Phoenix's leading striker this season with seven, was hopeful tomorrow's scan would reveal no major damage.
Ifill was stretchered from the field after falling awkwardly following a 10th minute challenge from Tarek Elrich and an extended absence from the game would be a major blow to the Phoenix's playoff chances, despite the fact they coped superbly without him last night by ripping apart a Newcastle team unbeaten in seven previous matches.
"You don't want to see anybody injured like that and the way he was screaming I immediately thought the worst, but from what I hear it may not be too bad so fingers crossed, because he's a very important players for us," Phoenix stand-in captain Tim Brown said.
"But as much as we'd miss Paul, there is a lot of quality there and I think that's starting to show through."
Brown had justification for such a statement after last night's season-best performance.
Speedy 19-year-old New Zealand talent Marco Rojas, starting his first match, was in the thick of the action but he was not alone as the midfield of Brown and Vince Lia, and a defensive line led by Jade North, showed their potential with dominant performances.
The diminutive and fresh-faced Rojas had a major hand in the opening goal to Brown after a delightful run down the right in the 18th minute, and his inspiring performance was rewarded with his first A-League goal when he lashed a 31st minute shot into the net.
Chris Greenacre, Ifill's replacement, put the match beyond reach for the Jets when he scored from corner three minutes before halftime, while striker partner Dylan Macallister completed a tidy game with the team's fourth goal in the 88th minute after a well worked attack.
Newcastle were severely depleted, missing up to 10 first-choice, but the Phoenix were also missing key players in Mark Paston, Tony Lochhead, Nick Ward, Andrew Durante and Ifill, and Herbert felt the performance had helped consolidate their depth.
"It was testament to the players who came in, they did a great job," he said.
"I thought it was the best we've played all year. It was a pretty comprehensive performance against a team which doesn't ship goals."
Wellington remain seventh but, with 25 points from seven wins, four draws and 10 losses, they are now level with sixth-placed Newcastle and one point adrift of fifth-placed Melbourne Victory.
Brown said confidence was high but it was important they collect three points from a visit to North Queensland on December 27.
Inconsistency has plagued the Phoenix and they must start stringing wins together.
"There is a really good feeling in that dressing room, there has been for a couple of years. We've taken a few knocks but I think we can really roll on with this," Brown said.
"We haven't won two games in a row all year so it's important we get a little roll on, but the league is tight and I still believe we can do some very big things this season."
- NZPA