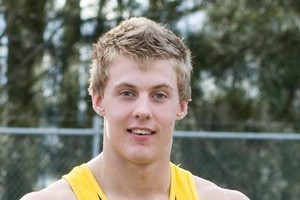 When Jacko Gill was 11, he told his father Walter that he wanted to do a 'shot put marathon'.
Walter, winner of New Zealand senior men's shot put titles in 1987 and 1989, asked Jacko what he was talking about.
"I want to see how many times I can throw the shot in the time it takes to run a marathon," Jacko said.
"I thought he was mad," Walter said. "But he was determined to go ahead with this crazy idea. After a couple hours of putting the shot in our backyard [in Devonport], Jacko asked if I could go to the shop and buy some plasters - he had worn the skin of the tips of his fingers. He carried on for another hour or so and, unbelievably, he had his best throw of the day on his 268th effort."
To say that 15-year-old Jacko, winner of the world junior (19 and under) shot title in Canada this year and now holder of the world youth (18 and under) record (set last weekend in Hastings), is fanatical about his sporting passion borders on understatement. He is already being labelled a phenomenon by those knowledgeable in the sport.
Former Auckland mayor Les Mills represented New Zealand at four Olympic and four Commonwealth Games in the shot and discus, winning two Commonwealth Games silver medals and one bronze in the shot and a gold and two Commonwealth silver medals in the discus.
Mills coached Beatrice Faumuina to win the world discus title in Athens in 1997 and still holds the New Zealand senior men's national shot record at 19.80m set in 1967.
Jacko has already tossed the senior weight shot (7.23kg) 18.57m. Mills was 28 before he could claim that distance. The way Gill is progressing, he could surpass Mills' record and be the first New Zealander over 20m by the time of the 2012 Olympics, if not before.
"Jacko is phenomenal," Mills says. "He is in a totally different league to where I was. He could be to New Zealand what Peter Snell was in the early 1960s. He is the complete package. He is explosive, is extremely well co-ordinated, has excellent technique, and an amazing attitude for someone so young.
"All going well, this should translate into Jacko becoming the world's greatest shot putter - barring accidents and other possible unforeseen circumstances of course - the world record and an Olympic gold medal or two, after London 2012, should not be beyond him."
Dave Wolman, one of the United States' most experienced track and field coaches, said he had never seen anything remotely like Gill in his 35 years of coaching.
He believes Gill could do to shot putting what Bob Beamon did to long jumping when he won the gold medal at the 1968 Olympics. Beamon jumped 29 feet 2 inches in the old measure (8.90m) - amazing in that no one had ever before jumped over 28 feet, let alone 29.
Talent certainly runs in the Gill family. Jacko's sister Ayla is studying in the United States on an athletics scholarship and is coached by Wolman. Ayla finished sixth in the hammer at this year's world junior championships in Canada.
Jacko's coach, Didier Poppe, says: "Jacko has surprised me with his thoroughly professional approach to training and competition. He is very mature for his age. He has plenty of room for improvement, especially by building up his strength.
"But we must be careful in this area. If we concentrate too much on weights and neglect other areas of his training, it would be counter-productive.
"Speed and his explosive ability are his greatest assets and we can't afford to lose these at the expense of greatly increased strength."
Gill fouled his last of six throws in Hastings last weekend. The shot wasn't measured but Poppe believes it was over 24m with the lighter, youth shot (5.5kg).
So there is clearly more to come.