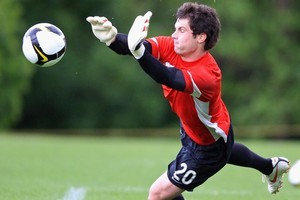 Jacob Spoonley had mixed emotions on Sunday morning when he learned of fellow goalkeeper Mark Paston's season-ending injury in the Wellington Phoenix's 2-0 loss to Gold Coast at a soggy Skilled Park.
"My first thought was 'oh, no, not again' and I immediately felt for him and wanted to wish him all the best," said Spoonley. "But later, on reflection, I could see there might be a positive in it for me and I decided to keep my head down and play some good football."
Starting tomorrow for Auckland City in their ASB Premiership home game with Hawkes Bay United.
"Yes, I would like to make the most of any misgivings and put my hand up."
It is not the first time Spoonley, 23, is in line for a step-up.
In the dead tie against Fiji in the last World Cup qualifying campaign, Spoonley got his chance 15 minutes from time when Glen Moss was sent off for his tirade aimed at the referee in a controversial affair. That was a debut outing for Spoonley and remains his only full international cap.
Not that he is any stranger to the big time. He has also played for New Zealand Under-20s in two campaigns - one a disaster which ended in defeat in the Solomon Islands (Spoonley rates the 2-1 loss there as the low point of his career), the other a much happier occasion when the team won through to the same World Cup in Canada.
"That tournament was special for me," said Spoonley.
"The CBC named me as the goalkeeper in their team at the end of the round-robin stage of the World Cup. That, in turn, led to me going to the Phoenix."
Spoonley also played at the Beijing Olympics and fondly remembers walking out for the opening match against China in front of a full house of 65,000 as he and, among others, Ryan Nelsen, Simon Elliott and City teammate Ian Hogg went on to draw 1-1.
Toss in his game for Auckland City at last year's Fifa Club World Cup when they stunned local side Al Ahli 2-0 and Spoonley can rightly say "been there, done that".
He has also tried his luck in England, after a deal fell through at the very last minute in Switzerland, had a stint with the Phoenix and has somehow found time to fit in his law studies at Auckland University.
His time in Wellington was a key part to the learning process but as understudy to Moss and Paston that was not going to go anywhere so he moved back to Auckland, joined City and worked from there.
He and veteran Paul Gothard shared the goalkeeping duties through the early part of last season with Spoonley eventually getting the nod to play Al Ahli while Gothard lined up against African champions TP Mazembe in the play-off for fifth.
City's 3-2 win that day can now be put in context with the team from the Democratic Republic of Congo on Wednesday pulling off the biggest upset in Club World Cup history with their 2-0 win over Brazilian champions Internacional.
Gothard has put the gloves away and is now City's goalkeeping coach with Spoonley his star pupil.
"I'm still learning from him," said Spoonley. "He is as good a coach as I have had. I have been lucky to work with Jonathan Gould, Mark Oates and Simon Eaddy in the past."
While the chance of an All Whites return might be on the horizon - there are likely to be matches in the March Fifa window - Spoonley is not counting on anything, just putting his head down and giving it his best shot.