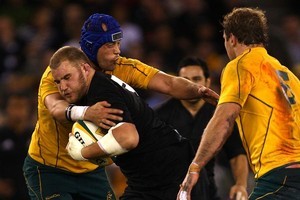 In Owen Franks, the All Blacks are convinced they have the scrummaging rock that will lay the ghost of Carl Hayman to rest.
Their conviction is undiminished by the confused picture that emerged fromthe end-of-year tour.
The penalty count against the All Blacks for scrum infringements was distressingly large. There was certainty and control when the All Blacks had the feed, but there were pile-ups, penalties and pop-ups when they didn't.
From the All Black camp came arguments of nonsensical refereeing and opposition skullduggery used to con officials. As much truth as there is to those allegations, there remains a concern.
To the uninitiated, there will always be the simplistic notion that if the props are on top of their craft, there won't be any problems. Any opposition nonsense will be quickly snuffed out - by whatever means necessary.
The All Black coaches are more forgiving, broad-minded and aware of the size of the task with which Franks has been charged. Still only 22, he's been assigned one of the toughest jobs in international football - anchoring the All Black scrum.
He knows he wasn't first choice - which makes life that little bit tougher. This time last year, the All Blacks were more than hopeful that Hayman was going to return and be theirWorld Cup saviour.
Franks had been used in 2009 and ended the year an encouraging and worthwhile project. At just 21, he was a phenomenal prospect. His strength was scary, his attitude good and his aggression, mobility and ball skills were all there.
But he was an insurance policy. The All Blacks wanted Hayman. They believed the 29-year-old was the best tighthead in the world and would be in his prime at the 2011World Cup.
The New Zealand Rugby Union did all they could to lure him home - but it wasn't enough. Hayman signed for Toulon and the All Blacks had to cash in their insurance policy. Franks was no longer a fall-back - he was going to be the man to lead the All Black scrum in 2010 and beyond.
The enormity of that task is at times hard to comprehend. Scrummaging is a demanding discipline mentally. It is like a 100m sprint - get one tiny element wrong and it is impossible to recover. The set-up and the engagement have to be perfect or it's a losing battle.
What Franks also discovered this November is that European packs like to stay down for longer. In the southern hemisphere the ball comes out quickly and the game resumes. Up there, they battle it out for a while and even a second longer can push the body to breaking point.
Physically, then, the contest is brutal. The hours in the gym are massive for any aspiring tighthead while there is the equally critical technical part of the role to be mastered.
It's a learning curve that has no end point and that's partly why the All Black coaches are sold on Franks. At 22, he's a baby and yet he's played 22 tests and never had a proper hiding. He struggled against England this year but that was as much about the referee as it was the power of Andrew Sheridan on the loosehead.
"He's an athlete that's built to be a setpiece player," says All Black assistant coach Steve Hansen. "From the look of him, when you talk to him and when you understand his mentality, that's what he's into. He loves it.
"If he didn't have to run around the park, he'd be quite happy. But in our team he has to and he's working hard to get better at that."
The All Blacks feel they have a player who is on the up and up; that while he may not be at Hayman's level now, he's not far off and making big strides each year. By September 2011, they believe Franks will be ready to deliver what they need; keeping the All Black scrum square and steady from which they can launch Kieran Read off the base, or hammer Sonny Bill Williams up the middle.
Some of this is wishful thinking - a case of talking up their only option. But only to an extent.
Franks is a fascinating player in that he really does get about the field. He really does love scrummaging and, while he's not the finished product, he's obviously a handful; obviously capable.
"Owen Franks is now a pretty mature international tighthead prop and I have noticed a huge difference in him," was Graham Henry's assessment at the end of the All Black tour. "His around-the-field play has improved immensely - his ability to carry, offload and his ability to tackle - so he's made giant strides."
If he can take one more giant stride in the early part of next year, the All Blacks won't regret their inability to bring Hayman home.