Every day this week in news, business and sport we feature the finalists for the Herald New Zealander of the Year. Top honours will appear in the Weekend Herald on Saturday.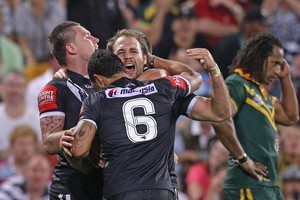 It's easy to deride the Kiwis' achievements.
League isn't a proper international sport because Ireland and Scotland aren't much good; only a handful of nations have ever won the World Cup; Pacific nations struggle from a lack of resources and eligibility rules which deprive them of their best players; and the major annual tournaments tend to involve the same old three or four nations.
Throw in the fact that the Kiwis actually lost to the Kangaroos more times than they beat them this year and, hell, why are these guys even on the shortlist?
Well, because they won the only thing that really mattered on the international calendar this season - the Four Nations - that's why.
And they did it in style - dramatic, jump out of your seat, punch the air and spill your beer and peanuts all over the couch style.
As one Aussie journalist put it, the longest-running stranglehold on an international sport had been broken.
Once untouchable and seemingly unassailable on their lofty perch, the mighty Kangaroos have been brought back down to earth. They've had their teeth ground into the dirt, and they don't much like the taste of mud - which makes it all the sweeter.
In isolation, the 2010 Four Nations is just another tournament win. In context it is the third of five recent major tournaments the Kiwis have cleaned up. They might not yet be favourites, but on the biggest stage they are no longer overawed.
All-up the Kiwis played six tests in 2010 for four wins and two losses. The 12-8 defeat they suffered in Melbourne was the closest they have got to breaking the Anzac test's home advantage monopoly.
A champion team, the Kiwis had no shortage of champion individuals in their ranks. Benji Marshall was the playmaker supreme; Jeremy Smith went from being so banged up to banging up opponents.
But it was collectively where the Kiwis triumphed. With two minutes to go, self-belief got them over the line, with Nathan Fien doing the honours to cap a dramatic, sweeping 60-metre, last-tackle raid.
As far as top moments go, the Kiwis must be in the reckoning.
We would like to hear from you. Who do you think is a worthy New Zealander of the Year for 2010? Email us at newsdesk@nzherald.co.nz