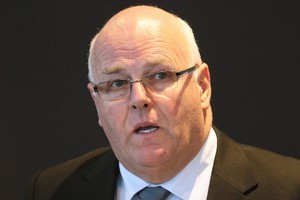 When Michael Glading stepped into the chief executive role at New Zealand Football his golf handicap was a more than respectable four. Now, two and half years later as he prepares to farewell the organisation, it was blown out, hardly the word, to a still none-too-shabby 9.4.
Not surprising really given the long hours he has put in at the national body in helping turn around a $1.5 million deficit to getting the books in the black.
"I quickly realised there would be no point in keeping my membership at Titirangi," said Glading yesterday in announcing his decision to quit in March. "Maybe I will get more time to play golf again but really, I don't have any firm idea on what I will do next.
After a long stint in the music industry including a similar role at Sony, Glading took a break, did some concert promotional work and ran a magazine before returning "to the workforce".
"It has been pretty full on but I feel the federations are in good shape and it is the right time to look ahead," said Glading, 57.
On the field, the highlights have been watching New Zealand teams qualify for two World Cups (men and women), watching the success of the Fifa Under-17 Women's World Cup - with its North Harbour Stadium base just metres from his office - and the encouraging showings by New Zealand teams on the world stage including two Fifa Club World Cups.
NZF chairman Frank van Hattum paid tribute to Glading's part in overseeing the turnaround.
"Michael was brought in to achieve critical business objectives set by the board. He has worked tirelessly with loyal funders, valued partners, the talented team of national manages, the staff, federations and the board to achieve outstanding results."