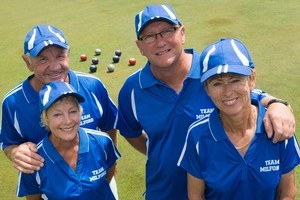 High-powered businessman Tim Preston had little idea three years ago when he was diagnosed with multiple sclerosis that one of the darkest periods of his life would lead to the fulfilment of some of his sporting ambitions.
Business associate and close friend Graham Dorreen persuaded him to follow him and take up lawn bowls and the result has been a meteoric rise not only for them in the sport but for their wives, Rhonda and Anne.
The two Milford couples last weekend achieved a double that bowls administrators believe is without precedent. Preston and Dorreen, as fourth-year bowlers, won the North Harbour centre junior men's pairs title and minutes later Rhonda and Anne, in their third year, won the centre junior women's pairs final.
That double has only been part of the Preston-Dorreen successes. This season Tim and Anne won the Harbour centre's open mixed pairs title and late last month Tim and Graham, skipped by the Milford club's best bowler Russell Hocking, made the triples' last eight, ahead of a number of internationals, in the New Zealand Open at Henderson.
Dorreen, 60, a former rugby player and coach, had always intended taking up bowls as his father Rowan in the 1980s had been president of the Mairangi Bay club. When he decided to join Milford it coincided with Preston's health setback so he reasoned that it would be a good idea for him as well.
And while reluctant at first Preston, 54, now concurs. "From working 70 hours a week my life had completely changed when I was diagnosed with MS and really bowls has been my salvation," he said.
"It has been both beneficial and therapeutic. A side-effect of MS can be serious bouts of fatigue but through a combination of good drugs and good bowls I've countered that."
Preston's sporting background was mainly in hockey, and he played to representative level and for New Zealand secondary schools.
So enthusiastic were Preston and Dorreen after their first season in the sport they encouraged their wives, both also reluctant at first, to join. They enrolled them in a series of lessons with leading coach Keith Burgess, and last year the quartet won the Milford club's mixed fours title.
Now the women are at least as keen on the sport as their husbands and like them have won places in the centre junior representative sides.
Preston and Dorreen have also used their entrepreneurial skills to good effect to help multiple sclerosis sufferers benefit directly from bowls. Last month they organised a triples tournament at Milford, which raised more than $2000 for the MS society.