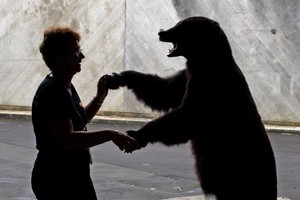 There are debates over tigers being forced to jump through flaming rings of fire and black bears riding bicycles. Students are signing life or death contracts at their universities. A father is suing his daughter for failing to move out of home. And 150 kilograms of 'bleached' mushrooms were uncovered before they were due to sell.
Welcome to another average day of news in China.
The country is enthralled by the Asian Games and billboards all over town display the latest medal tables while every taxi driver can tell you China's latest tally, though it is hard to keep up as the hosts have been plundering dozens each day.
But life goes on around this vast country and there is an incredible range of stories and tales to soak up. Granted, most of the information disseminated is 'polished', harmonised and controlled by the government but there is no end of fascinating stories on the English language television and radio stations and stations and the excellent English language newspapers.
A major debate at the moment is around live animal shows. In the 250 zoos and wildlife parks across China the sight of black bears riding bicycles around a ring, or fully grown lions balancing on a rolling ball is a common one. They often draw huge crowds - one excited youngster was very excited to see "lions riding horses, not eating them like it says they do in our school textbooks".
Now the China Daily newspaper reports the government has decreed that from January they will be shut down.
Earlier this year two particular stunts - one which involved tigers jumping through flaming rings and the other with bears playing with fire sticks - were banned as they "may be harmful to the animals".
The issue is more complex than it seems as the government generally does not provide any funding for the day to day running of the zoo's; only for special projects. So revenue streams these shows provide are critical. The animals are owned by the professional trainers, who say they will be impossible to sell.
Meanwhile, the Xian Evening News reports that students at Shandong Jianzhu University have been made to sign 'life or death contracts'. Essentially, if a student commits suicide or is injured, the institution will not assume any legal responsibilities if it has performed its responsibilities. They claim it is to make students more aware of safety on campus.
The Chutian Metropolis Daily described a gang of four that had scammed nearly RMB1 Million (NZ$200,000) by selling old Peruvian soles as euros. The unwary customers were attracted to what seemed like a great rate one euro for six yuan (normally one euro costs just under nine). The crooks were finally nabbed when a 42-year-old housewife went to the police after buying RMB170,000 (NZ$33,500) worth of Euros from the gang.
Meanwhile CCTV told the story of a Beijing man who has unsuccessfully sued his 25-year-old daughter for failing to move out of his house. She apparently didn't show for a series of job interviews that he arranged and with his failing health, it was too much to have to wash clothes and cook for her. She just wants to continue studying and the court ordered that she can stay in the house for as long as she wants.
In the Business sector, a government publication proudly reported that 78 small and medium-sized airports will be built in China over the next ten years as air travel continues to boom amongst the burgeoning middle class. Once all are completed, China will have a total of 244 airports. China Southern Airlines, little known in these parts, in now officially the biggest operator in the entire region and the fourth biggest in the world.
Finally, China Daily reported that 150 kilograms of bleached mushrooms were uncovered in Nanning in the Guangxi province. A health official reminded reporters that bleaching mushrooms is "against the current food safety regulations".
Michael Burgess travelled to China with the support of the Asia New Zealand Foundation, which is an organisation dedicated to building New Zealanders' knowledge and understanding of Asia.