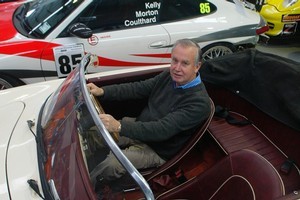 Auckland-based race team International Motorsport is gearing up for what will be their 50th year of competition.
Having competed in New Zealand across several classes over the years, International Motorsport has most recently been concentrating on the Porsche GT3 Cup series. However, this season the team extends their scope with entries in the Production Racing Championship (PRC) and the Suzuki Swift Sport Cup.
Their driver line-up brings a variety of skill and talent to the team. In the Porsche GT3 Cup Challenge, heading the charge will be Jonny Reid, hot off the back of the Auto GP World championship along with Ant Pedersen, who has been competing in the Fujitsu V8 Supercars Australia series.
Joining them in 997 Cup cars will be young Mitch Cunningham and seasoned campaigner Andrew Bagnall. Simon Evans will again run his 996 Cup car and aims to improve on his first season in the Porsche series last year.
New to the PRC is the International Motorsport-prepared Audi A3 that is being piloted by Simon Sceats.
Joining Sceats in the series but running as a separate class are James Kirkpatrick and brothers Dan and Richard Bagnall in BMW Minis. Another new car to the team is Ryan Bailey's Suzuki Swift.
Lyall Williamson established International Motorsport in 1960, and worked actively with the late Denny Hulme until his untimely death at Bathurst in 1992. Working with some of the world's greatest drivers and car brands over the past 50 years, International Motorsport has prepared cars and co-ordinated teams to race in Australia, New Zealand, Asia, South Africa and the United States.
Williamson still oversees the management of the team, although his son Nick looks after the day-to-day operation. "I've seen a far amount of changes over the years," said Williamson. "In the early days, safety wasn't so important and most of the drivers were amateurs and there were very few professionals.
"The opportunity to work with some amazing cars and drivers at such a young age was a great training ground. Cars such as the Mark II Jaguar taught me so much about the technical side of race-car preparation.
"This era also taught me so much of the attention to detail that was required in order to be successful. I had a belief that if a company focused on absolute detailed preparation of a race car and matched this with driver talent that would be successful in winning races.
"This was the founding principle of International Motorsport and remains our commitment to drivers and sponsors today.
"The other thing is that technology in the cars has gone out of control over the past few years. It's much easier to get horsepower now than it was back then. Not only has it incurred mire expense but it's also taken away good old Kiwi ingenuity and we've lost those great engineers and car builders that could do just about anything.
"The satisfying thing is seeing all the mechanics and drivers you've bought up racing and engineering all over the world.
"A lot of them keep in contact and it's quite rewarding."
The opening round of Motorsport New Zealand's race calendar roared into action over the weekend of November 6-7, and now heads to south to Ruapuna Park Raceway in Christchurch at the end of this month.
The New Year kicks off with two more South Island rounds in January at Teretonga Park in Invercargill and Timaru International Raceway. The teams will then head back north to Manfeild in Feilding in February, Taupo Motorsport Park in March and then on to the popular Street Race at Hamilton in April.
After 50 years in the motorsport game you'd think Williamson would like to hang up his spanners. Not so. "I doubt I'll ever retire. And anyway, I'm sure Joy [his wife] doesn't want me around the house ruining her operations so I guess I'll have to stay at work," said Williamson.