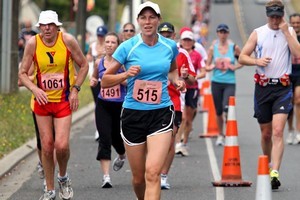 If you've ever wondered if you're capable of running a half marathon, the Fullers Great Sights Kerikeri Half Marathon this morning is the perfect place to find out.
Regarded as one of the "easier and faster" half marathons on the calendar, the event - which is celebrating its 21st birthday - is the ideal introduction to distance running.
"It's a pretty achievable course for all runners," said Colleen Atchison, the business development manager of Sport Northland.
"We get a lot of people running their first half with us and the sense of achievement is huge."
The first 8km of the 21.1km event is slightly uphill but the following 13km is a gentle downhill, making it a fast run for the elite and an accessible run for many.
The course records are testament to that. Seaton Meredith holds the men's course record with 1hr 5min 14sec in 1999, and Mary Davies the women's with 1hr 15min 19sec in 2003.
Andrew Kilding was the men's champion last year with a time of 1hr 11min 26sec, and Lydia O'Donnell was the first woman home in 1hr 17min 25sec.
The event has grown in stature and now attracts about 2200 runners every year. It is the only half marathon event that doesn't offer other distances.
Atchison says the Kerikeri Half Marathon is popular for many reasons. "It is a great weekend away. We get plenty of runners coming up from Auckland and it is a beautiful place to run."
Last year, the Kerikeri Business Association closed the main street for a party with bands and food stalls. It will feature again tonight from 5pm.