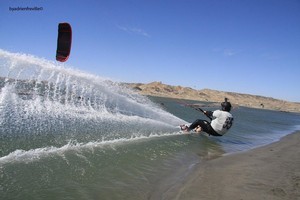 It was, by all accounts, a remarkable day.
The wind at the Luderitz kite sailing speed record site in Namibia was blowing at a highly desirable 45 knots.
However, the dropping tide meant the water level in the race channel was about to drop below 18cm (the minimum required if any new records were to be ratified by the World Sailing Speed Record Council).
After refusing to agree to it two weeks earlier (when the winds were at a similar level and Frenchman Sebastien Cattelan had first suggested it), the competitors decided to dam the channel, retain the water at the required level and keep trying to set new records.
The results were spectacular and have probably ensured that October 28, 2010, remains forever etched in sailing history.
Racing on the newly dammed race channel, Cattelan became the first person in history to travel, by sail power alone, at more than 55 knots.
In reaching a speed of 55.59 knots (102 km/h), he became the new world, French and European speed sailing record holder.
However, he held the first of those titles for just 60 minutes.
An hour after the Frenchman first broke through the 55-knot barrier, he was eclipsed by American Rob Douglas setting a new world record of 55.65 knots. Amazingly, although Douglas' record was not surpassed, three other Frenchmen also busted through the previously-impregnable 55-knot mark. Alex Caizergues clocked 54.93 knots (now the world's third fastest time) while Sebastien Salerno hit 54.28 knots and Sylvain Hoceini 52.90 knots.
Other records to tumble on what organisers quickly started calling "Epic Thursday" were the South African, Basil Cambanis, reaching 50.75 knots and, the Solvenian, Jernej Privsek achieving 46.60 knots.
The French were also to the forefront of the women's record setting. Charlotte Consorti set a new female world record 50.43 knots and also became the first woman in history to break 50 knots.