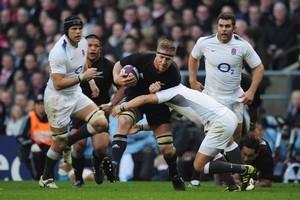 Bringing up his half century of caps in his next Test should help Brad Thorn change a few minds about his status as a rugby player.
The 35-year-old has always been viewed as the Brisbane Bronco who became an All Black - the rugby league convert giving rugby a go.
But his 50th cap is a landmark for any player and one that could do much to change perception.
Thorn will be in select company. Ian Jones, Chris Jack, Ali Williams, Gary Whetton and Sir Colin Meads are New Zealand's only locks with 50 caps or more. Even in a modern context, for Thorn to reach this point, to have convinced different selectors for that many tests, he's got a legitimate claim to be seen as a good All Black. He may even have a claim to be more than that.
"It's huge really, isn't it," said All Black captain Richie McCaw of Thorn's impending achievement. "He's 35 and he's still demanding a spot in the starting team and that in itself says a fair bit about him.
"When he came over in 2001 he probably never dreamed he would be a 50-test All Black, but I have a lot of time for him and to still be playing well at his age he must have a huge desire and drive to improve. I love playing with him - he's a top man."
The way Thorn plays now, his league career is a fading memory. He looks like a natural lock, so at ease with the technical requirements of his role that it's not possible to tell he came to the sport so late.
At Murrayfield last week he was his usual snarling self, hammering into every ruck and throwing Scots about, but he also took a senior lineout role.
He's viewed as a massive success story because he has converted from league to union and played in the forwards - something no other player has really been able to do. He's also been judged on the basis of his age - "isn't he wonderful for a 35-year-old?"
But maybe the time has come for him to be judged without caveat. He is a world class lock - simple as that.
Retirement day is coming, Thorn has hinted he will not go on past 2011 - not as an All Black anyway.
If he can avoid injury, he will most likely win more caps than Meads.
He might even win a World Cup and surely then Thorn can be seen as a rugby great.
* NOTE: This column was written before Thorn's late withdrawal from the All Blacks side to play Ireland.