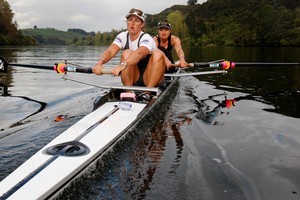 With the roaring success of the world championships behind them, Rowing New Zealand are eager to make further use of their world-class facility at Lake Karapiro.
But they will need to be patient.
A strong off-water performance was enhanced by a 10-medal haul on it, and plaudits all round for a job extremely well done. However, they are at the mercy of world governing body Fisa, who hand out the hosting rights for the key events, including world champs, the three World Cup regattas each year, plus the world junior and under 23 championships.
Venues for all those events next year, and in 2012, are confirmed, as are Korea and Amsterdam as hosts for the 2013 and 2014 world champs.
So it's at least five years, and probably closer to 10, before New Zealand would be in the frame to host the world champs again.
That's partly down to geographical considerations, and associated costs, but also the number of European nations with their hands up for hosting rights.
In New Zealand's favour is Fisa's desire to take a more global view of the sport, which has Europe as its power base.
New Zealand last hosted the world champs at Karapiro in 1978, and while there's no chance of the wait being that long again, it's a case of sitting tight, then doing an assessment of all relevant aspects before putting in a bid.
"They are looking at options around bringing more international events to this part of the world," RNZ chief executive Simon Peterson said yesterday.
That should be good news not only for New Zealand but also Australia and Asia, which would help loosen the European stranglehold on the key events.
"If it's possible and practical in terms of the calendar then we would want to utilise the facilities we now have."
With the infrastructure bedded in, RNZ would not need as long to get their preparations in place as they required for this year's event. In terms of the World Cup regattas, RNZ would need to slot into a schedule which would make a May regatta - the usual time for the first cup regatta - the most feasible.
"This year's world championships were fairly late in the piece for everybody, including our own athletes. To fit in with the World Cup, which is the start of the season on the European calendar, it would need to be April or May at the latest."
Peterson thought, providing it looked a workable proposition, hosting a World Cup would be RNZ's first option, followed by a world junior or under 23 champs. "The infrastructure legacy is second to none, it's a world-class water venue so any future bids would have that advantage, but there's also the reputation we've received with the worlds.
"We've had nothing but praise from Fisa and the local rowing community. The event and regatta side of it went very successfully and I guess that puts you in a strong position."
RNZ's washup of all things world champs, including the financial outcome, is a few weeks away. Next year's cup regattas are in Munich, Hamburg and Lucerne, with the world champs in Bled, Slovenia in August.