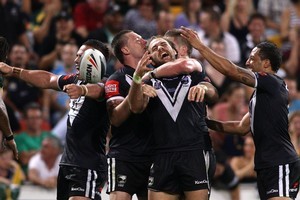 The Kiwis won't win the team of the year Halberg. They probably won't even be nominated. But really, who cares?
Who cares what the cucumber sandwich-munching luvvies whose primary function is to bestow their favour on our rowers each year think. They can choke on their Lake Karapiro canapes for all league cares.
For a large number of New Zealanders, the Kiwis are - once again - the team of the year.
That they won't be officially recognised as such by a select few doesn't change that.
In a nation that specialises in second place, the Kiwis are winners. Our national league team has brought home three of the game's last five major international trophies. It took extra time to deny them a fourth title.
They may have sucked a little in between, but when the silverware is up for grabs our boys deliver.
They are the polar opposites of our other national oval-ball team.
What would the All Blacks give for the Kiwis' tournament success rate?
All the Kiwis' successes have been delivered on foreign soil by an underdog team facing enormous odds. Australia's playing resources vastly outweigh the Kiwis.
Even England enjoys the benefits of its own professional competition.
But time and again the rag-tag Kiwis triumph on the big stage. Once might have been a fluke, and maybe lightning does strike twice. But three times out of five?
This year, their achievements are sure to be tainted by the shameful crowd behaviour at Eden Park. Such drunken scenes are common in cricket, and the Wellington Sevens is hardly a study in sobriety, but it's league's lot to be disproportionately tarnished, to have its status and value questioned, to have its achievements undervalued by people who wouldn't know a play-the-ball from a basketball.
So go ahead, Halberg judges. Give your gong to your beloved rowers. Or maybe to an All Whites team that didn't win a match in South Africa.
Having snubbed the Kiwis World Cup triumph in 2008, what choice do you have? You'll look like even bigger plonkers if you change your minds.
Keep your awards. The Kiwis don't need them. They've got plenty of trophies as it is.