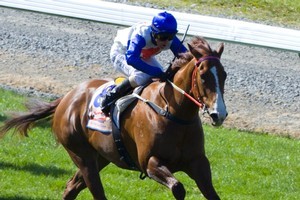 Coup Align missed three days' galloping work leading into yesterday's group three $100,000 Stewards Handicap at Riccarton, but still proved a class above his opposition.
He also carried 58.5kg, the heaviest impost carried by a winner in the race since Grey Way beat Show Gate in the 1976 edition, with 60kg.
"I'm rapt. I've been in the game a long time and he's the fastest horse I've ever seen trained in the South Island," trainer Michael Pitman told Trackside TV after the race.
Coup Align arrived back in New Zealand only late last week after a three-race campaign in Victoria, which included a win in a $94,000 race at Cranbourne.
In addition to his weight disadvantage, Coup Align had to overcome a wide barrier draw, jumping from 11 in the 14-horse field.
He did not immediately spring to the lead, but was in front after 100m, opened a two-length gap and sailed down the Riccarton straight.
Jockey Lisa Allpress got to work on him in the last 100m but he still had a length and a quarter on The Chunkster at the line. Tip The Wink was third and Vincent Mangano fourth.
"I just love riding him," Allpress said, obviously enjoying her fifth win on the horse from six rides.
"He wasn't that brilliantly away today but the first 200m of his races are the best. You honestly get whiplash out there - he's awesome, he's really cool."
It was a fitting win for race day sponsor Ray Coupland and his partner Jill Walls. Coupland had put up $100,000 for a match race between Coup Align and anyone who wanted to match his offer but there were no takers. "The $100,000 is still on if they want to have us on," said Coupland.
Coup Align won in a time of one minute 8.05 seconds, a little slower than the 1:07.79 when he won the race last year, carrying 53.5kg.
It was his 12th win from 19 starts, with the $59,375 purse taking his career earnings to $328,700.
Pitman was having a good day.
He won the premier rating 90 1400m for the fourth consecutive year, this time with Draconic, while the promising Mona Lisa won a 2000m race.
- NZPA