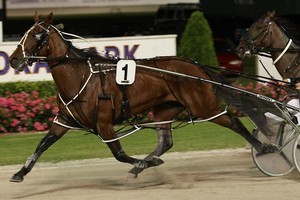 The career of New Zealand's fastest race miler is over.
Outstanding mare Kiwi Ingenuity will be retired after a sickening tendon injury suffered in Tuesday's New Zealand Trotting Cup at Addington.
The national mile record holder after her 1:52.1 performance at the Harness Jewels last season, Kiwi Ingenuity is almost certain to never race again.
She suffered the injury when she galloped with 100m to run in the Cup when challenging for third.
"She cut her leg pretty badly and she will be at a vet clinic here for at least a week," said trainer-driver Robbie Holmes.
"I would say that is her finished. She will miss the good races this season and really she has nothing left to prove.
"So I'd say we will retire her and she has a massive career as a broodmare ahead."
With her size, race record and breeding she is one of the most commercial broodmares in the country, having been good enough to also run fourth in last season's 1:50.7 Miracle Mile won by Monkey King.
She is one of the key defections from tomorrow's $200,000 Woodlands Free-For-All at Addington, which will bring most of the Cup stars back together.
Cup winner Monkey King, who won the free-for-all last season, will start favourite after drawing barrier three in free-for-all which will be run under different conditions this season.
The field is restricted to 10 starters with seven off the front line, and Kaikoura Cup winner Smiling Shard is the newcomer to the big time.
He has drawn barrier two with disappointing Cup favourite Stunin Cullen drawn on his back, alongside Smoken Up, who will start from the outside of the second line.
Both Stunin Cullen and Smiling Shard are racing for more than just the winning stake tomorrow, with victory for either certain to earn them an invitation to the A$500,000 Miracle Mile in Sydney on November 27.
Monkey King, the defending Miracle Mile champion, and Smoken Up have already been invited to the Mile.
Tomorrow's other Addington feature sees Sovereignty, Dr Hook, Springbank Richard and I Can Doosit added to the field for the $200,000 Dominion Handicap from those trotters who contested the trotting free-for-all on Tuesday.
KIWI GROUNDED
* Kiwi Ingenuity has been retired after injuring herself in the New Zealand Trotting Cup.
* The mare holds the national mile record of 1:52.1.
* Smiling Shard is the newcomer to the $200,000 free-for-all at Addington tomorrow.
* The $200,000 Dominion Handicap is tomorrow's other group one race.