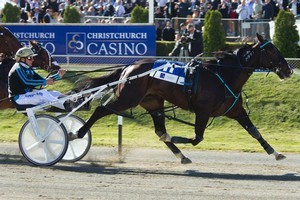 It worked. The trick driver Ricky May leaked exclusively to Herald readers yesterday morning proved the difference between another standing start disaster and Monkey King defending his New Zealand Trotting Cup title at Addington yesterday.
Monkey King got the standing start right for the first time in a month before outstaying Aussie hero Smoken Up and Sleepy Tripp in the great race.
May says the age-old but rarely used trick of placing a small amount of grit off the track in Monkey King's mouth before the race helped him step safely.
"I had only done it six times before and it always worked so I gambled on it again," May said.
"I only put a bit in and while I was doing it I had one of the television cameras focusing on me and I told them not to show it because people might think it is weird.
"But it worked."
The annoying grit gave Monkey King something else to think about and he produced his best standing start beginning in a full field in two years.
That saw him lob straight on to the back of Smoken Up in midfield, far handier than many would have thought, and from there May had options he didn't expect.
The little wonder pacer still has to be the hero he is as he was forced four wide inside the last 1000m but surged up to sit parked before blasting past Smoken Up.
"Once I got away and got on Smoken Up's back I felt a lot better about life," said May.
"I never doubted how well he was going but he really is a remarkable horse, he tries so hard.
"But he still had to earn it."
The win takes Monkey King to $3,304,998 in stakes, furthering his record as New Zealand's greatest ever stake-earning standardbred.
And he still has plenty of targets left on his chase to $4 million, starting with the $200,000 Woodlands Free-For-All on Friday.
He will then return to Sydney to defend his Miracle Mile title before the possible swansong of his career in the Interdominions at Addington culminating in April.
"He still has plenty of miles left in him because he has such a big heart," said trainer Brendon Hill.
"Last year was unbelievable because it was our first Cup but this year we were more relaxed. All he had to do was step away to be a huge chance and Ricky is a genius at that."
The win continues a remarkable transformation in the career of Hill, who spent years as stable foreman for Steven Reid before moving to Canterbury five years ago.
He was later given Monkey King to train when some would have thought the little superstar was past his best but has somehow managed to win $2 million more with him.
"I was just lucky to be given an opportunity and have to give credit to Robert [Famularo], who owns him, my staff and of course the horse."
Power Of Tara capped a wonderful race for Hill as he flew home for fourth after getting pushed back, confirming Hill gets the best out of his horses, as such a performance is right at the end of his range.
Smoken Up again had to settle for the bridesmaid's role after leading for the last 2000 metres, much of it when not travelling comfortably in front.
He didn't look his usual self but showed enormous courage to stick on for second.
"I was a bit stiff because a few drivers were yelling out so I took hold just as the tapes went and that cost us track position," said driver Lance Justice. "Basically I stuffed up."
Sleepy Tripp was a huge third after having to work twice in the running but disappointment of the Cup was favourite Stunin Cullen, who worked to the lead early before handing up to Smoken Up. That secured him the perfect trip but he was unable to make ground in the straight.
"He pulled really hard and that didn't help over the 3200m," said his trainer Tim Butt.
He will back up in the Free-For-All on Friday and is likely to be driven with more sit-sprint tactics.
MONKEY MAGIC
*Monkey King defends his New Zealand Trotting Cup title.
*Driver Ricky May used a cunning trick to get the veteran away from the standing start.
*The win takes him to a huge $3.3 million in stakes.
*Smoken Up, Sleepy Tripp and Power Of Tara were huge in defeat.