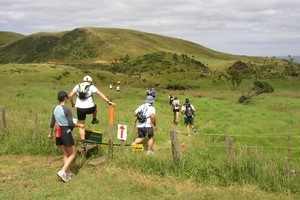 Runners around Auckland have only just recovered from last Sunday's marathon and half marathon but there are many who can't get enough.
More than 350 athletes will line up this morning at Bethells Beach in West Auckland for more punishment in the Speight's West Coaster - that includes about 40 attempting one of the hardest marathons in the country.
"The event is based in a truly spectacular location on tracks that you could stop on at any point, take a photo and turn it into a postcard ... it's that good," said event organiser Bryce Green of Total Sport.
"There are views to die for out over the West Coast, it makes the pain worthwhile."
The run covers the famous Te Henga Walkway and Goldies Bush, which are as brutal to run as they are beautiful. The full marathon, which begins at 7.30 this morning, is extreme and involves more than 2000m of vertical climbing
The fact that James Kuegler was the first man home in 4:49:49 and Miriam Ellis was the first woman home in 6:24:57 last year sums up how demanding this course is.
Kuegler is disappointed that he is not able to defend his title today because his body is not where it needs to be to run a marathon. "It is a fantastic run," said Kuegler who last week withdrew from the adidas Auckland Marathon.
"In fine conditions, there aren't too many better trails in Auckland or the country."
Kuegler, who is in the process of "getting his body into the right rhythm" with a new coach and the goal of running a 2:30 marathon, does a lot of training for his off-road event on Rangitoto Island.
"The West Coast has it over the East, in the fact that you can't see the city ... when you are out there you are totally away from civilization. It is like a whole different world."
The first Speight's West Coaster was in 2007 and today is the fourth edition of an event that has gone from strength to strength supported by a loyal off-road running community.
"The feedback we get is people just love being out in a rugged and remote part of Auckland," added Green. "Also how tough they found it ... most of the courses are not easy but the sense of accomplishment people have once they cross the finish line is amazing."
Green said the support of locals had allowed the event to access their private land, making the full 42km marathon possible.
There are four off-road events available to either run or walk; the 10km, 18km, 28km and the full marathon at 42.2km.
The 18km and 10km are the most popular distances with about 140 and 110 entering in those events respectively.
Last year, Kuegler was advised by Aaron Carter of Total Sport that the marathon would be a "journey of self-actualisation".
"And he was right ... I thought he was talking it up but it is a bloody tough race and there are enough hills in the first 14km to break you mentally," he said. "It is an absolute grind."
And the advice for those heading out to take on the Speight's West Coaster for the first time is simple.
"Ease into it," said Green.
"Don't go out too hard or you will pay for it ...
"The Te Henga Walkway can be pretty unforgiving so make sure you have something left in the tank for the trek home. "Also just enjoy your day - it is truly spectacular so make sure you take it all in and have a look around ... appreciate where you are in the world."