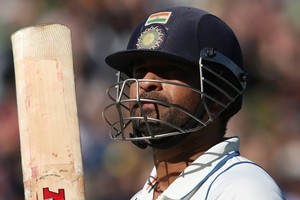 There are many and varied reasons why expectations outside of the New Zealand cricket team are at subterranean levels heading into the test series against India.
The three-match series begins at Sardar Patel Stadium here today, with even the most casual of observers cringing at the potential for a serious mismatch if the tourists buckle and the formidable Indians hit their straps.
Leaving aside their respective rankings - at No 1 in the world India should theoretically wipe the floor with the No 8 tourists - few arguments exist to support the New Zealanders confounding recent and not so recent form.
With an armour plated batting line-up containing enduring 30-somethings Sachin Tendulkar, Virender Sehwag, V.V.S. Laxman and Rahul Dravid, India have lost just one of 18 home series since 2000, against Australia in 2004.
They are fresh from a 2-0 series sweep over Australia, confident in their own skins and buoyant - as their on-field deeds, at home at least, begin to reflect India's smothering political and financial influence on the global game.
New Zealand? Well, they have serious issues.
Three rookies have been included in their tour squad of 15, with a test debut certain for middle order batsman Kane Williamson and expected for young fast bowler Hamish Bennett, as they seek respectability following last month's one-day series embarrassment in Bangladesh.
Their cause has not been helped by a scheduling oversight which has denied them a warm-up match, a setback captain Daniel Vettori refuses to dwell on.
He has enough to think about without wasting his time on something he cannot fix.
Foremost among his concerns is how his bowlers can take 20 wickets, which are needed for the tourists to entertain any hopes of becoming just the third New Zealand side to taste test success on Indian soil.
Vettori and his fellow tour selectors, coach Mark Greatbatch and vice-captain Ross Taylor, have been debating the pros and cons of a three seamer/one spinner attack against a two seamer/two spinner combination.
The former would likely see left-arm fast bowler Andy McKay become the third test debutant, and the latter would have offspinner Jeetan Patel lending Vettori specialist support.
Vettori is also keen to use medium pacer Jesse Ryder and part-time spinner Williamson to provide about 15 overs a day between them.
"People haven't seen how good Kane is yet. He's a pretty handy offspin bowler. He will give us something, and Jesse is always good for a few overs and he's normally a wicket taker as well," Vettori said.
He considers it crucial for his bowlers to be disciplined, to find the right channels and at least restrain the powerful Indian batting card.
"You have to hit the right area maybe 80 times in a game to get a result against the quality of batsmanship we're coming up against.
"It will be a tough slog in Ahmedabad in flat conditions, but I sincerely believe if we can do that for a long time, that it will give us a chance.
"The top six are phenomenal with their averages and they have a pretty balanced bowling attack," said Vettori, who has hardly been looking up the latest Wisden offerings to confirm what is in store.
"You don't look for weaknesses, you try to identify how we as a team can compete and do well over here.
"That's our focus because there's no real point looking up the Indian averages because they'll just daunt you."
Vettori will also counsel his players to closely watch how the Indians go about their work, saying it will be wasteful not to endeavour to learn off the best in the game.
"You model yourself a little on their gameplan and hope that it works.
"It's about competing with them at their own game, and that's bowling straight, trying to let the wicket take over, and we want to get the ball to reverse because that can play a big part."
TEST LINE UPS
New Zealand (from): Daniel Vettori (captain), Tim McIntosh, BJ Watling, Brendon McCullum, Ross Taylor, Jesse Ryder, Kane Williamson, Martin Guptill, Gareth Hopkins, Jeetan Patel, Andy McKay, Chris Martin, Brent Arnel, Hamish Bennett, Tim Southee.
India (from): MS Dhoni (captain), Virender Sehwag, Gautum Gambhir, Murali Vijay, Rahul Dravid, Sachin Tendulkar, Suresh Raina, VVS Laxman, Cheteshwar Pujara, Harbhajan Singh, Pragyan Ojha, Amit Mishra, Zaheer Khan, Ishant Sharma, Shantakumaran Sreesanth.
- NZPA