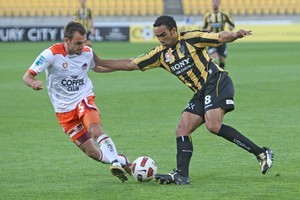 The Wellington Phoenix's unbeaten A-League soccer record at Wellington Stadium was tonight dismantled by Brisbane Roar who romped to a 4-1 victory.
Fittingly, Brisbane, who now go top of the table, were the last team to take three points off the Phoenix at this venue two years and 25 games ago.
The deepest thorn in the side of the Phoenix tonight was ironically a player unwanted at their club -- striker Kosta Barbarouses.
Barbarouses put Brisbane on the road to victory in just the third minute, poking a pass from Ivan Franjic past goalkeeper Mark Paston.
There were no early signs that the Phonex were about to surrender the proud A-League record as Leo Bertos, after good work by Manny Muscat, and Chris Greenacre both had close looks at the Brisbane goal.
Paul Ifill had the best chance in the 25th minute, stealing the ball of defender Matt Smith only to see his snap shot sear past the the far post with goalkeeper Michael Theoklitos beaten.
All that pressure was finally rewarded when a Muscat cross found Bertos who relayed the ball to midfielder Tim Brown who caressed the ball into the back of the net from just outside the box for the equaliser.
The game was evenly shared from there though Brisbane looked the more threatening thanks to good work from Reinaldo, Thomas Broich and Barbarouses.
The Phoenix defence looking shaky without the calming influence of the injured Tony Lochhead at leftback was sorely tested by the quick counter attacks by Brisbane.
Barbarouses popped up on the right flank late in the first half as the Phoenix contemplated drinks in the dressing room and his cross found an unmarked Broich whose shot looked off-course until it struck defender Jade North and deflected past a hapless Mark Paston.
Barbarouses had a chance to put his side further ahead early in the second half and Paston was lucky to pad away the rising shot from just over 20 metres.
Massimo Murdocca was next but his shot after he took a cross from Reinaldo came off the post.
Brisbane, playing delightful one-touch passing football and quick counter attacks were not to be denied and Murdocca deservedly put them further ahead, slotting the ball past Paston after accepting a delightful through ball from midfielder Jean Carlos Solorzano.
The Phoenix were unable to exert sustained pressure on the Brisbane goal with Theoklitos' defenders tackling accurately and their efforts to come back left them exposed to a Mitch Nichols injury time goal.
- NZPA