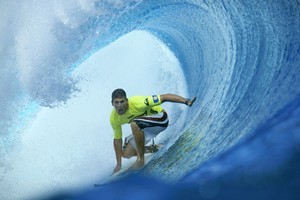 Police are investigating whether the death of three-time world surfing champion Andy Irons may have been caused by an overdose of methadone, according to a report.
Hawaiian surfer Irons, 32, was found dead in a hotel room in Dallas, where he was on a layover en route to his home on Kauai. He was returning from Puerto Rico, where he was to have competed in the 2010 Rip Curl Pro Search.
Employees at the Grant Hyatt Hotel DFW Airport found the body and called Dallas-Fort Worth International Airport police at 9:44 a.m.
The Honolulu Star-Advertiser reports the Tarrant County Medical Examiner's Office, which will conduct an autopsy today US time, as saying methadone was found inside a container of a prescription drug called zolpidem in Irons' hotel room.
Zolpidem is commonly used for insomnia, while methadone is a powerful controlled substance used for pain. The container, as well as numerous other medications, was found on a nightstand, the medical examiner told the Honolulu Star-Advertiser.
The exact cause of death may require a toxicology test, which could take 60 to 90 days to complete.
Irons was reportedly suffering from dengue fever.
Withdrawal from competition
The Association of Surfing Professionals confirmed the 32-year-old's death.
"He had reportedly been battling with dengue fever, a viral disease," the ASP said in a statement.
Irons leaves behind his heavily pregnant wife Lyndie Dupuis.
"At this time the family thanks his friends and fans for their support and asks that the community respect its privacy," the ASP said.
Irons was expected to compete against two Australian surfers in his first heat Saturday, but didn't show up, much to the confusion of commentators.
Rip Curl officials said Irons withdrew on Sunday, citing an illness he contracted during an event in Portugal.
Family members from Kauai were headed to Dallas late Tuesday.
Irons was scheduled to compete in the Vans Triple Crown of Surfing in Hawaii, which is scheduled to begin next week.
Tributes
"The thing that I think many of us appreciated the most about Andy was that he was an incredibly real person," Vans Triple Crown of Surfing spokeswoman Jodi Wilmott said. "Where a lot of champions in sports and celebrities become very guarded and you just wonder sometimes if you're really seeing who they are, you've got Andy Irons 100 per cent of the time."
Wilmott said Irons was a passionate person and an incredibly competitive athlete.
"He revelled in competition and in stepping up to the plate and I think that's something in sport that anybody can admire," she said.
The Irons family in a statement thanked the surfer's friends and fans and requested privacy "so their focus can remain on one another during this time of profound loss".
Billabong, Irons' sponsor, posted a tribute page on its website, which includes a photo and video of Irons.
"Andy was one of the greatest surfers of our time," Billabong said. "More than that, he was a much loved son, a devoted husband and a soon-to-be father. The thoughts of all Billabong employees worldwide are with wife Lyndie and Andy's family at this most devastating time."
Irons' wife, Lyndie, is pregnant and scheduled to give birth to their son and first child in December.
Tributes have been flooding in to Irons' Facebook page and RIP Andy quickly became a trending topic on Twitter today.
Irons was world champion in 2002, 2003 and 2004.
Kiwi surfing legend Maz Quinn was saddened to hear of Irons' death.
"I knew him reasonably well," said Quinn, who has been surfing competively for 17 years and was the first New Zealander to qualify for the elite World Championship Tour in 2001.
"He came to New Zealand a few times and we hung out. He was a likeable character, pretty easy to get a long with. Really competitive, like all surfers," said Quinn, 34.
"He was young and a fit guy. It's a massive loss to the surfing world. He was three times world champion only a few years ago and was the only guy who gave [Kelly] Slater a run for his money."
Former world champion and close friend Mark Occhilupo told Fox Sports News he was shocked by the news.
"Words can't explain it ... I can't believe it," he said.
"I saw Andy in Tahiti (in September). I dropped him off at the airport and he was as happy as I've ever seen him.
"As a friend he was so good to be around. It is really, really heart-wrenching."
Occhilupo also confirmed that Irons had contracted dengue fever before and that it normally returned when he was run down.
- Herald online, AAP, AP