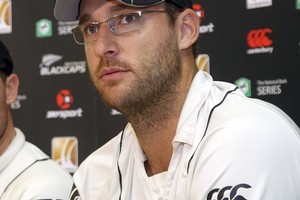 Daniel Vettori will not need a bat in his hands as he ticks off yet another cricket century.
He will become just the second New Zealander to play 100 tests for his country when the three-match series against India starts here at Sardar Patel Stadium on Thursday.
His predecessor as captain, Stephen Fleming, retired after playing 113 tests, a mark Vettori, at just 31, is destined to eclipse.
Vettori's 100th outing for his country comes a little more than seven months and one match after he celebrated another landmark, when he made his 100th test appearance, against Australia, on his home ground in Hamilton.
A big fuss was made of that occasion, with family and friends on hand to share the moment. This time around Vettori only has his teammates and management for company.
The quirk in Vettori's career breakdown is a lone test he played for an International Cricket Council world 11 against Australia in 2005.
It has given him the rare honour of passing 100 twice in appearances on the test stage, a statistical oddity he appreciates.
"It's a great honour for me and something I will really cherish," Vettori said of a test in which he needs to score just 38 runs to reach a career mark of 4000.
That would place him in an exclusive club of three players to make 4000 test runs and take 300 wickets, joining English great Ian Botham and Indian legend Kapil Dev.
Vettori's development as a genuine allrounder comes after much graft and hard work. He has previously admitted to embarrassment about his abilities as a batsman as his value to the national side was solely due to his orthodox left-arm spin bowling.
In the early years there was more than a hint of the agricultural about his batting. He is much more refined these days, but still strictly suburban as distinct to metropolitan.
His reward to date have been five test centuries and a career average of just under 31.
Vettori noted there was much less fanfare surrounding his 100th match for New Zealand compared to his 100th test appearance in Hamilton.
"It was a big deal for me but I think it took a little away from that last test match.
"It is nice this time that it can sneak into the background," said Vettori, who debuted for his country as a gangly, spring heeled 18-year-old against England in Wellington in 1997.
"I have put Hamilton to bed. This is test match 101 in my mind. But it's funny, because some people don't regard the ICC world 11 test match as a test."
Not that that concerns Vettori, who admits to eyeing up further milestones down the track.
"I suppose with how my game has developed over the last few years, I have worked on my skills, 4000 runs and 400 wickets is what I really aspire to achieve and that's not too far away," said Vettori, who to date has captured 325 test wickets.
New Zealand coach Mark Greatbatch can think of few individuals as deserving as Vettori to reach another hundred.
"He is an outstanding individual who has had longevity.
"He's a very humble guy. He's a good leader as well because he leads by doing which I think is the most critical thing for a leader.
"There's no named attached to it, it's about doing and fronting up.
"Daniel Vettori is the epitome of that for New Zealand."
- NZPA