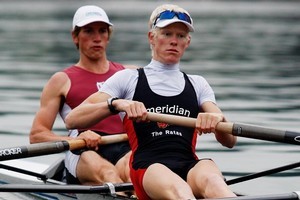 Men's Lightweight Coxless Pair Graham Oberlin-Brown (left) and James Lassche. Photo / Christine Cornege
New Zealand's rookie lightweight pair of Graham Oberlin-Brown and James Lassche say they have plenty left in the tank after an upset first-up win over defending champions France at the world rowing championships here today.
Barely half an hour of rowing was contested before racing was suspended for five hours as a brisk southerly strengthened and it was deemed too dangerous to race.
Oberlin-Brown and Lassche still had to battle testing conditions in the first heat of the eight-day programme, but impressed with a solid finish to secure a direct path to Friday's A final.
In doing so, they relegated defending champions Fabien Tilliet and Jean-Christophe Bette to Tuesday's repechage.
The Frenchmen started strongly, easing through the first 500m with a half-second lead, but Oberlin-Brown and Lassche wound up over the middle 1000m and led by well over a second with 500m to row.
They came home for the win in six minutes, 33.35 seconds, over three seconds clear of the French combination, and with a whole new set of goals.
Lassche said the conditions limited the amount of effort the duo could put in, adding that the pair were confident they could lift their performance again in the final.
"There was quite a bit left in the tank," he told NZPA afterwards. "That last 500, especially with those conditions, it limited the amount of work you could put into the water.
"You have to back off and let the boat work underneath you, good dropouts, stuff like that. If there were flatter conditions in the last 500, we would have been able to empty the tank a bit more."
Oberlin-Brown agreed: "You have to row well, basically. Technically, you have to be very efficient - get the work done in the water, and be able to relax on the recovery of the stroke."
The New Zealanders had approached their first elite race with low-key expectations, despite a solid sixth place at the under-23 world championships in Belarus 10 weeks ago.
"We just wanted to have a good race, basically," Oberlin-Brown said afterwards. "We've done a lot of work over the last 12 weeks, a lot of high-intensity work.
"We just wanted to put our plan out and see where we stood. The plan was to go out and have a win, but it's fair to say we weren't expecting it."
He said some crews had struggled over the closing stages, as the conditions took their toll.
"But our plan worked well. We pushed through the 1000m, and got ourselves into a postion where we were out in front. We just seemed to row away, which was great."
Oberlin-Brown said the hard yards over the last three months had paid dividends, and the pair were optimistic about upping the level a notch in five days for the final.
"With the Rowing New Zealand programme, we're conditioned to get stronger as the racing goes on, We've had that first race now so we should, with the amount of training we've done, get faster as the racing goes on."
- NZPA