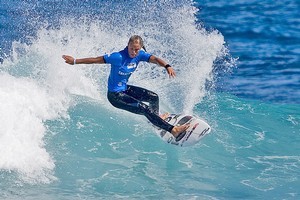 New Zealander Paige Hareb has finished second at the world surfing games in Peru behind Australian Chelsea Hedges.
Hareb led the final until the last two minutes, only to see Hedges come out top in the final exchange.
As well as eventual winner Hedges, Hareb was up against local Sofia Mulanovich and France's Pauline Ado in the 25-minute final.
Hedges jumped out to an early lead with a near perfect 9.0 point ride but Hareb chipped away at the lead, seemingly getting uninhibited selection of waves out wide while the other three girls hustled up the point.
Hareb started with waves of 4.5 and then 5.33 out of a possible 10 before stamping her authority on the final and moving into the lead with a brilliant 7.83 point ride.
Her best ride of the final included three big seamless forehand turns and the lead was hers with 12 minutes remaining.
From then on, the final was a tense wait for waves and missed opportunities, as crowd favourite Mulanovich failed to use her local knowledge of the break to find the best waves of the final.
Hareb held strong trying to improve her lowest scoring ride of 5.33 but came up short with a 5.20 in the latter stages of the final.
Hedges fell on one wave and got caught behind another to remain in second place hunting out a 5.17 point ride for gold.
With two minutes remaining, Hedges needed a 4.17 for the win. A set of good waves rolled down the point. Hareb took the first wave and surfed it for a score of 6.77 points - improving her lead and making Hedges require a 5.6 for the lead.
However, Hedges was on the very next wave weaving her way to the beach with a series of big turns for an 8.0 point ride, dashing Hareb's golden aspirations.
Earlier, Hareb had needed to survive two repechage rounds after placing third in her qualifying round.
She surfed a tight final heat, with less than three points separating the four surfers. Hareb's 10.83 was enough to take the win, and cement her a shot at the final.
The result is the best ever performance at the world surfing games by New Zealand woman, and helped the New Zealand team to seventh place overall after finishing 11th in 2009.
Hareb's second equals that of fellow New Zealander Lynden Kennings in the longboard division in 1994.
- NZPA