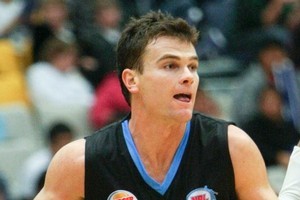 The NZ Breakers are hopeful of having Kirk Penney back on court as early as a week on Saturday after the star guard cut his NBA losses yesterday and returned to Auckland.
Penney missed the Breakers' opening two matches of the new ANBL season after rushing to the US to accept an invitation from the San Antonio Spurs to attend a training camp.
He spent a brief time with them before being waived by the Spurs but remained in the US to pursue other NBA options. Nothing materialised and he arrived in Auckland yesterday to rejoin the Breakers. Their chief executive Richard Clarke said while the club was disappointed for Penney personally, they welcome him back.
"He's a very good player and hopefully will make us even better," said Clarke. "He needed to make sure he had done everything he could to chase his NBA dream but, over the last week when things weren't progressing, he decided to come home."
The Breakers are resisting the temptation to rush Penney straight back into action. The Tall Blacks shooting guard will sit out tomorrow's home game against the Melbourne Tigers, as it was decided there was not enough time to reintegrate him.
"He'll start getting back into the team swing of things after Thursday's game, and I'd imagine he'd be back on the training court on Saturday."
That means Penney's comeback ANBL appearance will likely be the fixture at the Gold Coast on November 6.
The Breakers, who have had a winning start against Sydney and Perth, will have to make changes to their squad to accommodate Penney's return, with Leon Henry the one to make way.
"From a salary cap point of view we can't keep everyone in the squad, so Leon is likely to drop out, but he was aware of the situation when he came in," said Clarke. He said it was fortunate timing as Henry has been struggling with a foot injury.