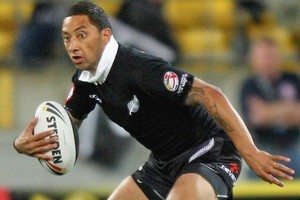 Benji Marshall thinks his Kiwi teammate Jared Waerea-Hargreaves is a psycho. Waerea-Hargreaves thinks his captain is all show.
You may think it's an insult but the pair think it's funny.
The two superstars of the NRL are in Rotorua for the week preparing for the Kiwis test against Papua New Guinea on Saturday. The team have a couple of days' rest and recreation, which has given the them a chance to check out what Rotorua has to offer.
It included white-water rafting on the Kaituna yesterday, and karting at the Mamaku today.
Waerea-Hargreaves, a former Rotorua lad, and Marshall, originally from Whakatane, said it was great to be home.
"It's always good to be home. I don't get the chance that often during the year to get home so I always try and make the most of it when I can - and it's always good to get to see the family because they don't really get to watch me play, especially in home territory too," Marshall said.
It may be a time to relax and have fun but everything was a competition which had to be won by Waerea-Hargreaves, Marshall said.
"Just look at the karting - Jared is a rugged driver, he doesn't have any care for the rules. I don't know how they drive in Rotorua but in Whakatane you've got to watch out for other people on the road.
But Jared, he's a bit of a worry.
"Nathan Fien is pretty good and I'm pretty good. But Jared, there's something wrong with him - he's a psycho, he hates losing. He'll do anything to win even if it's to crash a [kart] into you."
Waerea-Hargreaves said Marshall was just soft and liked to do things to look good.
"He likes to stay away from the contact, with me I like to be competitive. I never play or do anything to lose, I always try and go as hard as I can. It's all flashy stuff with Benji, he's trying to do a nice little manoeuvre to get around them whereas I'm just straight into them.
"He also screams like a girl when he gets excited."
The Kiwis are expecting a physical encounter when they meet the Kumuls at Rotorua International Stadium.
"After watching [Australia v Kumuls] game, they are going to be physical and they weren't afraid of Australia," Marshall said. "They won't be afraid of us. If we play smarter than them and play with enough commitment for each other we should come away with the right result."
While the Kiwis and Kumuls were once familiar rivals, facing off in 15 tests between 1978 and 1996, they have met only once since, when the Kiwis prevailed 48-6 in Robina on their way to winning the World Cup in 2008.
Kick-off for the test is 6pm, with a curtainraiser between the Junior Kiwis and Junior Kangaroos at 4pm.
For more articles from this region, go to Bay of Plenty Times