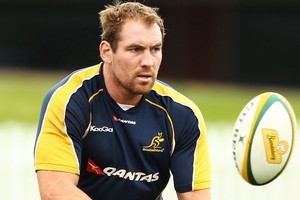 Wallabies captain Rocky Elsom has been given a vote of confidence by coach Robbie Deans as he prepares to start his second Spring tour as captain.
Blindside flanker Elsom cut his captaincy teeth with the Wallabies on the same tour last year. Renowned for letting his actions do the talking, Elsom is now firmly entrenched in the position.
"He has grown significantly and I think this trip will show that," Deans said. "It is a tough arena for any man to have his first captaincy experience and that was what Rocky had.
"Obviously there is a lot of scrutiny, a lot of comment, but he's worked hard. He's no slug, he's quick on the uptake and he's made significant progress and hopefully he will get some outcomes that will just reinforce that."
Both Elsom and Deans stressed results rather than player development and potential as the big objective of the seven-match tour of Hong Kong and Europe. The schedule contains tests against New Zealand, England, Wales France and Italy plus midweek games against English club Leicester and Irish province Munster.
While the squad includes seven uncapped players, Deans stressed he wasn't looking at the tour from a developmental prospective.
"We selected the best group available," Deans said. "Clearly there's a player like [halfback] Nick Phipps in there, who has been given an opportunity in a position where we are pretty much unresolved in terms of our third halfback, so he's got a great opportunity.
"But it's not development. We've got five test matches, two midweek matches against international combinations. We are not approaching it as development."
"Potential, I think we're a bit passed that, I think we're probably more interested in results at the moment," Elsom said. "You will know how well we are going, by how many times we get up."
Deans has blooded 26 players in his near three-year tenure and hopes that will now start paying off on a consistent basis.
Elsom was confident he had fully recovered from the hamstring niggle which prevented him from training until the final pre-tour camp last Wednesday.
Deans said there were no injury worries and all his squad should be available for next Saturday's tour opener against New Zealand in Hong Kong.
Meanwhile lock Victor Matfield was named as the Springbok captain for the grand slam tour of Britain and Ireland next month. Matfield, 33, who has captained his country 11 times, replaces regular skipper John Smit who was ruled out of the tour following neck surgery.
Flanker Juan Smit was named as the vice-captain. The tour starts against Ireland on November 6, followed by Wales, Scotland and England on consecutive weekends.
- Agencies