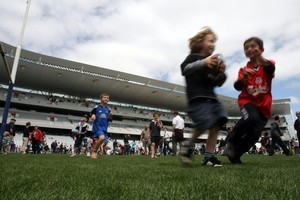 Eden Park's bosses passed up an opportunity to sell naming rights to the home of rugby - a sponsorship deal that could have covered most of the park's $40 million redevelopment shortfall.
They don't want to sell the name, saying people would be aghast if Eden Park was renamed after a corporate - but the decision means ratepayers must plug the gap.
The $256m park redevelopment has been funded by a number of partners, with the majority paid for by the Government. But the $40m shortfall has been picked up by Auckland City ratepayers.
Sponsorship broker Murray Stott approached the Eden Park Trust Board in November last year with a 20-year naming rights proposal that he said would have brought in $40m.
But board chairman John Waller said they were keen to preserve the park's name.
Stott provided the board with a full submission and a letter of recommendation from the Auckland Regional Council.
"I could have delivered $25m to $40m for a 20-year naming right depending on the level of integration," he said. "It would certainly save the Auckland ratepayers a lot of money."
Stott didn't hear back. "I rang and spoke to some middling executives. I never heard any more about it. He was "very, very confident" he could deliver a naming rights sponsor.
He said a number of people were interested in Eden Park when he was looking at naming rights for Mt Smart Stadium.
But Waller said the board was not keen to take that path. "We're very keen to preserve the name. Eden Park has a rich legacy. But we've always said if we had to raise funds we would look at it."
Waller said sponsorship was not explored because of the recession. The board was developing sponsorship and membership and was leasing corporate boxes in the new stand to recoup costs.