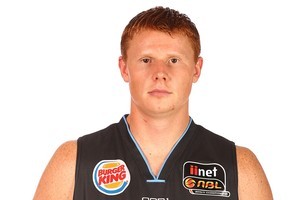 It would be disingenuous to suggest Gary Wilkinson harbours no ambitions of playing in the NBA but the big Breakers power forward isn't really that fussed about it.
It's an attitude that sits in stark contrast to Kirk Penney, who is expected back at Breakers HQ in time for Thursday's home game against Melbourne. Penney trialled unsuccessfully with San Antonio and then offered himself to virtually anyone who would listen.
Wilkinson came close to playing in the NBA too. He was a standout for Utah State University, one of the top sides in the country, played in the Utah Jazz summer league. He was watched by a host of other clubs but couldn't win a contract.
He's OK with that. He will be fine if he never plays in the world's best basketball league. He's never really dreamed about it anyway.
The reason Wilkinson is so at ease with his future is because of his past. It's hard to imagine now when you look at the clean-cut, well-spoken and personable red-headed American that he could have fallen so far off the tracks.
Wilkinson was cut from his high school basketball team because of a bad attitude, lived off a diet of drugs, alcohol and partying, dropped out of school and lived a hedonistic existence for about five years.
"I didn't really have a real passion for learning or school," he says. "I lived for the present and drugs and alcohol were a big part of that at that time.
"My dad took care of me. We were pretty well off. I would party all night, sleep during school and get up and go again. I was on course to graduate [from high school] but just didn't see the value of it, so I didn't go any more. That was the way I liked to live at that time; for at least four or five years."
It took the suicide of a friend for Wilkinson to start to question his existence and the choices he was making.
"My friends were a huge influence on me. I love and care about them but the path they chose wasn't where I wanted to be any more. Leaving drugs and alcohol behind is difficult but the whole social aspect is a real challenge because now you are alone and go out into the unknown without any support."
Wilkinson found it in the Mormon church. He soon converted and spent two years as a missionary in Canada. He returned to Utah and won a basketball scholarship to Utah State. That forced him to play the game he once excelled at but, even though he fell back in love with the sport, it was really only a means to an end. His main priority was his sociology and law studies. Basketball merely paid the bills.
Wilkinson's priorities and attitude towards the NBA shouldn't be perceived as a lack of passion for the game. Anyone who has seen him play for the Breakers can attest to that.
Against Perth on Wednesday night, the 2.06m power forward's battle with Jesse Wagstaff for a rebound nearly descended into a brawl. He also played the role of chief cheerleader as the game went to the wire.
Wilkinson has been brought in to replace Rick Rickert, who spent three seasons with the Breakers. He is two inches shorter, which robs the Breakers of any 'significant height', but is said to possess a better shot and will fit better into coach Andrej Lemanis' plans to play a running game.
He was a standout at the Top End pre-season tournament, averaging 22.6 points and five rebounds a game. His numbers so far haven't stacked up (9.5 ppg, 5 rpg) but they will improve as he adjusts to the Australian league and the Breakers' system.