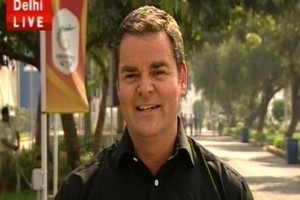 On behalf of the team, I'd like to assure our loved ones that our toiletry movements have been solid and regular.
One Network News' Andrew Saville fulfils TVNZ's charter obligation to keep the nation informed about the viscosity of his own poo at the Delhi Games. For updates on the fibre-rich diets of your favourite TV stars, switch on to TVNZ7.

"It is private, but it is better they go with a woman than a drink."
Manchester City coach Roberto Mancini on English soccer's booze culture, after goalkeeper Joe Hart was pictured dancing on a bar in Spain's Costa del Sol.
"For me, it is frustrating. I don't understand why a player must drink after the game. One drink is okay, but three, four, five, six until they are drunk - this is not good."
Bobby Manc, still on the booze. Only six? You should have played with Gascoigne, mate ...
"There are always people who will say that if we had a striker or two strikers we would have had more chance of scoring goals."
Scotland coach Craig Levein on the 4-6-0 formation he fielded against the Czech Republic.
"Home is where you were born, and home is New Zealand. I've lived in Australia longer but New Zealand will always be home. When I watched them do that haka it didn't feel right."
Roosters and Kiwis hardman Jared Waerea-Hargreaves gets all warm and fuzzy about Aotearoa while recounting his time in the Australian schoolboys' rugby team.