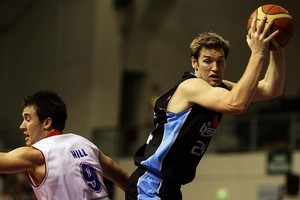 The Breakers are pledging to play their part, but forward Dillon Boucher wants fans to muck in as well as the club looks to re-establish the NSEC as a fortress.
Although they finished last season with a respectable 9-5 record at home in the ANBL, the Breakers paid the price for a horror mid-season run of four straight defeats in their own gym, missing the NBL finals by a single win. That poor stretch did plenty to remove the fear factor in coming to Auckland - something Boucher wants to see re-established as the team kicks off its home campaign by entertaining bitter rivals Perth Wildcats.
While Boucher and his teammates accept responsibility for the team's failings, they weren't helped by fans sitting on their hands.
"It was disappointing to not protect our home court last year and it is something that we have talked about," Boucher said. "When teams come to New Zealand - and this is where the fans need to help out as well - we need to make this place a real battleground so that teams don't come in here and win easily.
If they win it is going to be with the crowd making as much noise as they can and them simply playing better than us.
"We want it to be as tough as it possibly can [be]. We want New Zealand to be one of those places teams hate coming to."
Having posted an impressive opening victory in Sydney in front of packed house on Saturday night, the Breakers are keen to inject some serious momentum into their season by knocking over the defending champions.
The presence of former Breaker Shawn Redhage in the Perth line-up won't do any harm when it comes to cranking up the crowd. Redhage enjoyed a brief spell at the club in 2005, but these days is the man fans love to hate.
In 2008, he was involved in an off-the-ball incident that ended with Phill Jones receiving a one-match ban for striking him in the groin. With Jones now in Cairns the job of dousing Redhage's fire will fall to Boucher and Mika Vukona.
"Shawn is obviously a very good player and he plays with a lot of passion," Boucher said. "He likes to throw his body around and that usually involves hitting other people. It is definitely going to be a physical battle out there with him and it is a battle guys like myself and Mika are looking forward to. He is a such a quality player we want to keep the defensive intensity on him so that everything he does score is going to be hard work and eventually it will tire him out."
BREAKERS v WILDCATS
*North Shore Events Centre, tonight 7.30