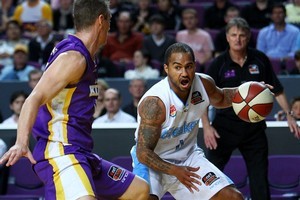 There will be no dramatic comeback by Kirk Penney for Wednesday night's Breakers home opener against defending champions Perth Wildcats.
There is still no official timeframe for Penney's return as he pursues NBA options, but even if is back from the United States in time for Wednesday's match he will not take the court, coach Andrej Lemanis said.
A more likely scenario would see Penney back for the round-three visit of Melbourne eight days later.
Saturday night's impressive opening victory over Sydney at a packed Kingdome would have increased Lemanis' comfort with the Penney situation. The Breakers defended stoutly to hold the Kings to 70 points, won the rebounding battle 44-34 and shared the scoring on attack.
Point guard Kevin Braswell led the side with 16 points, centre Alex Pledger chipped in 14, while Tom Abercrombie chalked up a 13-point, 11-rebound double-double.
The Breakers led by 14 at halftime thanks to a 27-10 second quarter, but had to withstand a final-quarter Kings comeback that slashed the lead to a single point with seven minutes remaining.
"It was a great experience for our younger guys to go through that: to have a lead and then have them come back and have a big crowd go nuts at them and still find the poise to get the win," Lemanis said.
The win was the Breakers' seventh in a row dating back to last season. Lemanis said the side was confident, but that had more to do with a solid pre-season than any carryover from last season.
The domination of the rebound count - particularly on attack where the Breakers shaded the taller Kings 17-10 - continued a trend set during pre-season matches. "For a small team we have to rely on executing our boxouts and a bit of passion and desire to go after the boards," Lemanis said. "We were able to do that on Saturday night with Mika Vukona [12 rebounds] leading in that department.
"We did what we needed to do defensively, we were disruptive and forced them into a kind of one-on-one affair. We were able to get our running game going and played well."
Holding a Kings side that scored 84 points in a road victory in Melbourne on Friday night to just 70 at home showed the strength of the Breakers' defensive strategy.
"Teams are having trouble finding shots out of their normal offense and that can keep the scoring down a little bit. It has been good so far."
Pledger's return of 14 points from 6/9 shooting in 19 minutes of court time, and his work limiting star opposite Julian Khazzouh to just 16 points, was a major positive for the Breakers.
Little used last year, the 2.13m Pledger is the team's only genuine centre following the departure of Rick Rickert. He has shown glimpses of potential - particularly in a Tall Blacks singlet - but had yet to fully find his feet in the ANBL heading into this season.
Sydney had paid the price for leaving him open, Lemanis said.
"I guess they didn't understand his range. They gave him some shots and he put them in and he grabbed a few offensive rebounds. He did what he does for our group and did it well."
Breakers: 83
Kings: 70