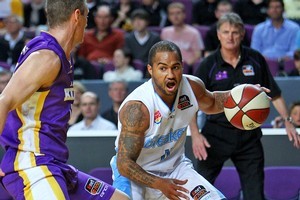 Pretenders to the Australian National Basketball League crown last season, the New Zealand Breakers began rebuilding their reputation by ruining the Sydney Kings homecoming with an impressive 83-70 victory tonight.
A commanding 27-10 second quarter which muted the born-again franchise's 8533 loyal subjects at the Sydney Entertainment Centre should have eased the Breakers to a first-up win but a third quarter fade out set up a nerve-jangling finale.
Ironically it was former Kings favourite CJ Bruton - who relocated to Auckland when the three-time champion franchise imploded two years ago - that provided the decisive momentum shift when the Kings appeared on the verge of completing an unlikely comeback.
Booed in the pre-match introductions, Bruton returned serve from beyond the arc with a three-pointer that gave the Breakers an unassailable double-digit lead with less than three minutes remaining.
Bruton's sharp shooting soothed the nerves after the Kings had whittled down a 14-point halftime deficit to just one with 7min 28 secs to play.
American import Kevin Braswell, who top scored with 16 points also played an important role in thwarting the Kings while Tall Black Tom Abercrombie stepped up with 13 points, including a key three-pointer and a brace of extravagant dunks.
After two years in exile the Kings celebrated their return with a surprise 84-68 win over a bulky Melbourne Tigers last night, but the three-time champions found the Breakers' up-tempo style harder to live with.
Long range bombs from Abercrombie, Braswell and Paul Henare helped produce a 14-point buffer by the main break on the back of a 46 per cent success rate from the floor.
In contrast the Kings were stone cold from the beyond the arc until McCullough drilled the Kings 10th three-point attempt -- a highlight of an improved third quarter that cut Breakers advantage to eight heading down the stretch.
Tall Blacks forward Mika Vukona propelled the Breakers to a 6-0 lead inside the opening two minutes though a 13-2 run after rookie head coach Ian Robilliard was forced to call an early time out had the Kings in front 19-16 at the first break.
The Breakers, who were title anointed title favourites in 2009-10 but failed to make the play-offs, open their campaign on home court against the reigning champion Perth Wildcats on Wednesday at the North Shore Events Centre.
- NZPA