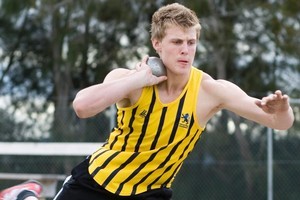 Jamaican superstar Usain Bolt believes New Zealand's world junior shot put champion Jacko Gill is five years away from realising his full potential.
Gill supplanted Bolt as the youngest winner of a gold medal at the world junior athletics championships (a competition for under-20 athletes) in Canada in July.
The Auckland-based teenager struck gold at the biennial championships aged just 15 years 183 days with a 20.76m effort - a mark which tops the 2010 global junior rankings.
Bolt had held the previous age record after winning the 200m title at the 2002 world junior championships in Jamaica, aged 15 years 333 days.
Gill is regarded by many as one of the most exciting young global talents in athletics and Bolt was genuinely excited to lose the record to the Takapuna Grammar student.
"I am very happy that the sport of track and field continues to produce champions at that age," Bolt told the Herald on Sunday.
"He is obviously a natural talent with a big heart."
Interestingly, Bolt's career stalled after his 2002 junior success. Injuries restricted the Jamaican's development and Bolt sounded a clear warning to the young Kiwi of the pitfalls ahead.
"Injury is Jacko's No 1 threat," explains Bolt. "What is important is that you employ a proper injury management programme. Continue training.
"He has made a name for himself and fans will be following his progress. Give yourself time, let's say five years like I did.
"My goals when I started my professional career in 2003 was to be ready in five years - like in Beijing - and look what happened to me."
In 2008, Bolt emerged as a global superstar, winning three gold medals at the Beijing Olympics in the 100m, 200m and 4x100m relay and breaking the world record in each.
Gill shares the same coach, Didier Poppe, as Valerie Adams, the world and Olympic champion, who retained her Commonwealth shot put title with ease in New Delhi last week.