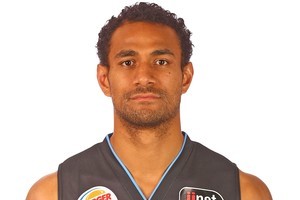 One fan felt so bad about it, she apologised soon after Mika Vukona returned to Auckland earlier this year.
The level of heckling, as he called it, was vociferous whenever he sat on the opposition bench at the North Shore Events Centre. He might have spent five years with the Breakers previously, but he was now the enemy.
Vukona is one of the good guys again, after re-signing with the Breakers following two years away, firstly with the Souths Dragons and then Gold Coast Blaze.
There are many things to look forward to this season, as the Breakers are among the favourites for the ANBL title, but Vukona says one is having the crowd on his side.
"It was tough [playing in Auckland against the Breakers]," he says before last night's season opener against the Sydney Kings.
"The crowd let you know that you were playing with an Aussie team. They said all the nice things after but you could hear the heckles.
"It was understandable. When you've spent five years in the club and you come back, you expect it. It drives you to play even harder.
"It didn't hurt. It was good. At least you know when you come back to the team, the crowd are with you again.
"One lady came up and said, 'I need to apologise for what I said to you'. I said, 'that's all right. I'm just glad to be on your side this time'."
Vukona is sure to be a crowd favourite this season. The 28-year-old is an all-action player in the way Dillon Boucher is and he will fit seamlessly into plans to play and up-tempo, running game this season.
Vukona has always been an intense defender and animated rebounder but he has recently improved his ability to score.
At last month's world championships, he was New Zealand's third equal-highest scorer behind Kirk Penney and Tom Abercrombie and scored 19 points in the 92-79 defeat to Lithuania.
He puts a lot of that down to two years away.
Life was too comfortable at the Breakers and he needed to be challenged, and he needed to trust himself.
"It's always been in the head," Vukona says of his previous inability to score heavily.
"But you go put yourself in a situation where you're not comfortable, like moving away from the Breakers, and you're either going to have to survive or die. I learned that.
"I got what I wanted from my two years away and that was to grow and experience something other than the Breakers.
"I wanted to see how the Aussies tick as well. As a New Zealander going into Australia, there's always that fear they might not accept you. It was a massive experience.
"I think I have become a more complete player. When I was with the Breakers, I was really raw. I just defended and took whatever shots I was given.
"Over the two years I have been away, I am able to read the game better and I'm more experienced."
He also returns as only the second New Zealander behind Boucher to win an ANBL title.
He achieved it in his first season with the Souths Dragons but then had to go through the extraordinary situation in which the Dragons ceased to exist as the league was revamped and Vukona was out of a job.
He was worried, very worried.
Because he does a lot of things in basketball that can't be measured - the hustle, the screen, the boxing out - his statistics failed to flatter.
He seriously contemplated re-starting his social work degree, believing he would struggle to pick up a new contract in the new league, but a call from the Gold Coast changed his plans and he helped the Blaze to the semifinals.
Twelve months later, an approach from Breakers coach Andrej Lemanis was all he needed to convince him his future lay back in Auckland.
"It didn't feel right, being on the Gold Coast," he says. "When the chance came up to come back here, I jumped on it. Andrej told me what systems he planned on running and it sounded like a winning formula and something I wanted to be a part of.
"I think we've got a great chance this year. As everyone saw last year, predictions go out the window once the season starts but I have every confidence in the team.
"They are a lot more honest, more battle-weary [than when I left]. Andrej is more open when working with the guys and allows different ideas to help the team."
Whether he listens to fans' suggestions or heckles, however, is a different matter.