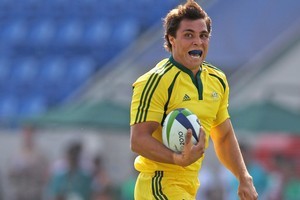 The surprise selection of halfback Nick Phipps in the Wallaby squad marks a new chapter in the story of one of Australia's most illustrious rugby families.
Phipps was in the Australian sevens team beaten for the gold medal at the Delhi Commonwealth Games this week - but now carries on a robust family history of playing against the All Blacks.
Phipps' great-grandfather, Jim Phipps, and his three brothers - Peter, John and Robert - played for Sydney club Gordon in the 1950s. Jim played outside centre for the Wallabies in 11 tests and toured New Zealand and South Africa, while Peter, an inside centre, toured New Zealand in 1955, but did not play a test. Peter was picked to play the second test against the All Blacks in Dunedin, but withdrew because of injury and was replaced by Jim.
"I never knew until a couple of years ago. I got a few emails from them. They just wished me all the best. Keep a calm head and learn a lot."
Phipps, who was one of four members of the Australian sevens team along with Pat McCutcheon, Luke Morahan and Lachie Turner to make the squad, was the bolter. The Sydney University halfback is yet to play Super rugby, although he is contracted to the Melbourne Rebels.
Even the Rebels thought their other halfback, Richard Kingi, would make the squad before Phipps.
"I didn't believe it," Phipps said. "I was surprised when our [sevens] manager Luca Liussi told me."
"I didn't put myself in contention at all. I have no idea what's going on. On the back of the sevens, it's a good finish. I still haven't spoken to [coach] Robbie Deans. I'm looking forward to that."
Phipps, 21, will be the Wallabies' third halfback behind Will Genia and Burgess and will most likely sit on the bench in the midweek games against Leicester and Munster.
"Nick has played some very good club rugby," Deans said.
Phipps is one of six of Sydney University's premiership-winning squad along with Barnes, Burgess, Ben McCalman, McCutcheon and Dean Mumm.
"One of the things that stands out about him is his fitness," Barnes said of Phipps. "His fitness tests are outstanding. Off the chart.
"Also, he has a solid pass. He hits the target pretty often. He mightn't have the running game of Luke and Willie just yet, but he will adapt."
Phipps was one of seven uncapped players, including winger Rod Davies, backrower Scott Higginbotham, second-rower Van Humphries, McCalman, McCutcheon and winger Morahan.
Humphries, 34, will become the oldest player on debut for Australia if he plays in any of the five tests against the All Blacks, Wales, England, Italy and France. Second-rower Mark Chisholm made a remarkable recovery from a knee injury to gain selection and is a possibility for the Test against the All Blacks in Hong Kong on October 30, while captain and blindside flanker Rocky Elsom is confident of overcoming a hamstring injury in time for the tour opener.
- Agencies