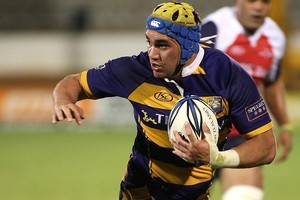 I think there's little point trying to tell you what the Three Wise Men will do when they announce the 30-strong All Black team for the end of year tour tonight.
There will be few surprises, if any, with the only real edge over who they will leave out in the crowded positions. So I have come up with 30 names in the Richard Loe squad - the team I think the selectors should choose, as opposed to those I think they will opt for.
It's selected on form and several were not considered because of injury. As I have said before, if they are not fit and have not proven themselves on the field, they should be left at home. That includes those with "reconstructive" injuries although I have bent the rules a little for more minor injuries, like those of Dan Carter.
Not considered were Keven Mealamu, Andrew Hore, Ali Williams, Adam Thomson, Piri Weepu and Sitiveni Sivivatu.
My team is:
Hookers: Jason Rutledge, Hika Elliott
Props: Owen Franks, Tony Woodcock, John Afoa, Jamie Mackintosh
Locks: Brad Thorn, Tom Donnelly, Sam Whitelock, Anthony Borich
Flankers: Jerome Kaino, Victor Vito, Richie McCaw, Matt Todd
No 8s: Kieran Read, Colin Bourke
Halfbacks: Jimmy Cowan, Alby Mathewson
First fives: Dan Carter, Colin Slade
Midfield: Ma'a Nonu, Conrad Smith, Sonny Bill Williams, Robbie Fruean
Wings: Cory Jane, Joe Rokocoko, Hosea Gear, Rene Ranger
Fullbacks: Mils Muliaina, Israel Dagg.
Let me say right off that I know some of these names will not be selected - but I think they should be.
In the front row, Rutledge gets the nod for his superb form and he is not so old he couldn't be in contention for the World Cup, less than a year away. Elliott deserves a place through his form - even though the reality is that he appears to have blotted his copybook so much with the All Black camp, he may never get a run back.
Perhaps people like that deserve a second chance but, accepting reality for a moment, I'd take Dane Coles if Elliott was ruled out. Neither Corey Flynn (who's injured anyway) nor Aled de Malmanche have done enough for me.
I would also take Jamie Mackintosh at prop instead of Ben Franks. The latter hasn't been on top of his game lately, I'd suggest, and Mackintosh has made some great strides this year. I have been a stern critic of his in the past but now think he's done enough to go on this tour with an eye to the future. He has some obvious physical and athletic skills and I think he'd fit well into what seems to be the All Blacks' strategy for the World Cup.
Afoa gets in because I think it's smart to try him out at hooker and the one bolter - Matt Todd - is at flanker.
He has been in excellent form, is a good ball carrier and distributor, can play 6 or 7 and we still badly need a suitable back-up for McCaw.
At No 8, Colin Bourke has been in good form yet again - and gets a Loe tick, even if I don't expect him to get the selectors'.
In the backs, I have not selected Aaron Cruden. I do not think he is up to standard (although I think he will be chosen and go) and I have said the same in the past of Stephen Donald, in spite of his good form in the ITM Cup right now.
Williams and Fruean are obvious selections to bolster midfield depth and power, and Hosea Gear gets a place because I am not sure we can afford to leave such an attacking weapon at home.
Isaia Toeava doesn't make this team as I have opted instead for Rene Ranger (hamstring permitting) as I think he offers a little extra - even though I believe the All Black selectors will make the opposite choice.
If Dagg's injury doesn't allow him to tour, I'd replace him with Toeava.