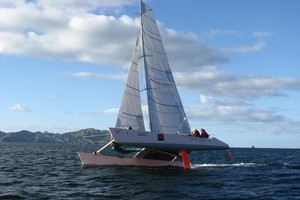 The catamaran affectionately known as the Pink Pig has returned from Noumea to defend her Coast Classic title.
Auckland yachties shivering in their cabins this week must have wondered whether the weather gods were having a laugh at their expense.
For longer than most of us can remember, entrants in the annual Labour Weekend Friday HSBC Premier Coastal Classic yacht race have dreamed of a screaming southeaster. Generally considered the ideal wind for a fast run from Devonport Wharf to the finishing line off Russell Wharf in the Bay of Islands, a howling southeaster at this time of year tends to be a rarity. Yet 10 days shy of the start we're "enjoying" one.
Regardless of whether the southeaster sticks around for another week (unlikely), the attention in this year's race is almost certain to settle, once again, on the battle of the multihulls.
In the pink corner will be Coastal Classic stalwart Split Enz, the fastest multihull ever to compete in the race.
Her 7h 20m record, set way back in 1996, was, until last year, also the overall record for the race. (In 2009, super-maxi Alfa Romeo set a new overall record of 6h 43m).
Astonishingly, Split Enz remains, apart from some sails-tweaking and strengthening work, in almost exactly the same configuration as when she set the record 14 years ago.
Now based in Noumea, she has returned to Auckland for the second year in a row to defend her title.
Owner Georges Auteret will be hoping for better luck than last year, when a rudder problem limited her to just cruising speed.
The Pink Pig's rival, in the red corner, will be Simon Hull's ultra-impressive giant Orma 60 trimaran, TeamVodafoneSailing. Not content with trying to annihilate their multihulled opposition, Hull and his crew are also aiming to blitz Alfa Romeo's new race record.
It will be a brave punter who bets against Hull's lot. Measuring 18m in both length and beam, the giant red tri is capable of averaging 18 knots to windward (in 25 knots of breeze) and 30 knots on a broad reach. Hull has also assembled a formidable crew including accomplished dinghy, America's Cup and Whitbread/Volvo sailors such as Patrick O'Reilly, Kevin Peet, Paul Murray and Nick White.
Although the two big multis are expected to lead the fleet, this is yacht racing and things rarely go to script. Poised to pounce if they get the chance will be Roger Pagani in his new 15m catamaran, Triple 8, and previous two-time winner (2007 and 2008) Taeping, a 13.5m catamaran owned by Dave Andrews.
Second last year, Taeping has benefited from a programme of continuous updating and improvement. Over winter, a stiffer rig has also been added. But it may not be enough. Taeping and Triple 8 clashed for the first time last week and the newcomer appeared to have the edge.
While the multis battle for glory at the front of the fleet, the leading monos are unlikely to be far behind.
Expected to lead them is the Australian-owned Reichel-Pugh 62, Evolution Sails Limit. Owned by Alan Brierty, the founder of Brierty Ltd (a civil engineering and mining company in Western Australia), Limit will nonetheless race under the New Zealand flag; her owner a member of the Royal Akarana Yacht Club. The yacht has already competed in this year's Pacific Cup (from San Francisco to Hawaii) and several other major international regattas. She has also recently been in New Zealand for a refit before competing in the Coastal Classic and the Sydney-Hobart.
Limit's first-class crew includes America's Cup veterans Chris Dickson and Gavin Brady, three Perth sailors, a brace from the United States, two from Sydney and several Kiwis. They will not only be hoping to lead the large fleet of monohulls into Russell, they will also, if conditions are heavy, have an outside chance of scuttling Alfa Romeo's record too.
A fleet of up to 200 yachts is due to set sail in this most classic of Kiwi yacht races, first held in 1982, at 10am next Friday. As race spokesman Jon Vincent says, the fleet truly represents the full spectrum of New Zealand sailing.
A big spectator fleet traditionally follows the yachts as they sail past North Head on their way to Cape Brett and then Russell.
The best vantage points from the shore will be Devonport Wharf and foreshore and North Head. The race can also be followed on coastalclassic.co.nz.
HSBC Premier Coast Classic
What: NZ's largest coastal yacht race
From: Devonport Wharf to Russell Wharf
When: Friday, October 22
Start: 10am
Time to beat: 6 hours and 43 minutes
Where to watch: Devonport Wharf, North Head