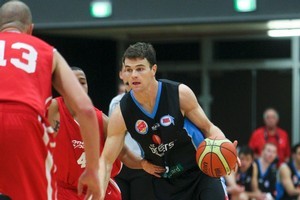 The Breakers will be stepping straight into the cauldron when they open their ANBL campaign against the reborn Sydney Kings in Australia tonight.
Over 7000 tickets have already been sold, with Kings officials confident of a 10,000 sellout to mark the homecoming of the three-time champions after a two-year absence.
While that scheduling could not be considered favourable to a Breakers side still waiting on Kirk Penney's return from the United States, it will be balanced by the fact that the Kings are backing up just 24 hours after taking on the mammoth Tigers in Melbourne last night.
"You play them when you play them," Breakers coach Andrej Lemanis said.
"Obviously the first home game for them will be a big occasion and I'm sure they'll try to hype it up. But I think that is good for us. We are happy to be there and be a part of it. I think it rubs off on our guys."
No timetable has yet been announced for Penney's return, but the club is quietly hopeful their star shooting guard will be back on deck for next Wednesday's home opener against defending champions Perth.
But that won't happen until Penney - who was this week cut by San Antonio after just one pre-season appearance - has exhausted all his options in America.
"He needs to go and fully satisfy the desire within him to make the NBA," Lemanis said.
"Once he's done that, if he doesn't have a gig then obviously we will be happy to welcome him back.
"But as a club we can't be worried about what Kirk might and might not do. We have got this team and we are going forward. If he becomes available then it is a nice addition."
Lemanis would not reveal his starting five, however his strongest line-up would appear to be import Kevin Braswell at point guard, with CJ Bruton slotting into the two spot. Tom Abercrombie and import Gary Wilkinson will also start, with the final spot to go to either Mika Vukona or Dillon Boucher.
Bruton missed the pre-season tournament with an ankle injury but his perimeter shooting will be a welcome addition to a side that - Wilkinson aside - struggled to convert from long range throughout the pre-season.
With this year's squad down on size, Lemanis is planning a high tempo approach.
"We need to use our speed and mobility to speed the game up," he said. "Defensively we will be disruptive, we will continue to try to force the pace.
"Offensively we will get out and run and put pressure on their defensive transition, but also look to execute from the half court as well.
"It should be exciting for fans to watch."