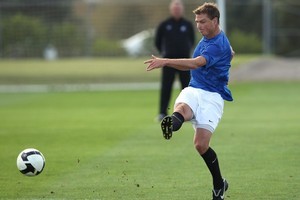 International duties behind him, Phoenix boss Ricki Herbert is back in club mode with THAT record firmly in his sights.
Unbeaten in their past 23 Hyundai A-League outings at Westpac Stadium, the Wellingtonians already share the longest unbeaten run in an Australian league with Sydney United (set more than 10 years ago).
A win or a draw against Melbourne Heart at the stadium tomorrow will make it 24 straight and give them the record alone.
Asked whether this effort has become all-encompassing in the team's thinking, Herbert admitted it remains a "massive factor" in preparing for any game.
"It would be great to break such a record but we can't lose sight of the bigger picture," said Herbert.
"We still need to win away from home if we are to be serious contenders but in doing so well at home we are building a solid base.
"Every team goes through patches - Perth Glory have lost four on the bounce, Sydney still haven't won and Melbourne Victory had a period where they struggled. ... how you come through those is what counts."
For the Phoenix, tomorrow's game is an early chance for revenge against the league's new boys.
Beaten 2-1 at AAMI Park a month ago, the Phoenix will be looking to reverse that.
Herbert has hinted there will be changes, with Mark Paston set to be rewarded for his good work both in training and in two outings for the All Whites with a first start in goal this season.
"It is no reflection on how Danny Vukovic has done more that Mark deserves a chance," said Herbert.
There is also likely to be a switch in formation, with Herbert likely to play Ben Sigmund, Andrew Durante and Jade North at the back and Manny Muscat, provided he is fully fit, and Leo Bertos taking the flank roles.
Tim Brown, who scored for the Phoenix against the Heart in Melbourne, will partner Vince Lia in midfield provided Lia is fully recovered from his hamstring strain.
Up front Nick Ward, Chris Greenacre and Paul Ifill will chase the goals.
Herbert is confident his players will have the pace and mobility across the park to test the visitors.
"We created chances over there but failed to take them," said Herbert. "We need to shift the ball around and test them. I'm sure if we can do that we can get something from the game."
A-league
* Wellington Phoenix v Melbourne Heart
* Westpac Stadium
* Tomorrow 5pm (live SS2)