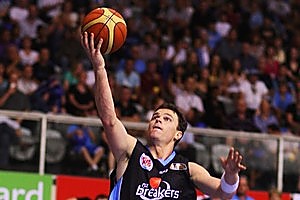 Following in Kirk Penney's footsteps has been a bit of theme in Tom Abercrombie's life.
Where Penney, New Zealand's finest basketball talent despite his failure to crack the NBA, has trail-blazed, Abercrombie has followed. Both grew up on the North Shore, starred in Westlake High's team and served as the school's deputy head boy. Both took their talents to US college ball in the hope of cracking the big time. And both returned home to play for the Breakers when the dream never quite happened.
When Penney returned to the US for one last attempt to make the NBA last month, it seemed Abercrombie would again step into Penney's shoes - this time as the Breakers' most marketable player. And when Penney's shock departure to trial with the San Antonio Spurs was announced, Breakers officials and even his team-mates were quick to finger Abercrombie as the man who could fill the void.
With Penney this week cut by the Spurs and expected to return to Breakers in short order, that dynamic has changed.
Penney will still be the star of the show, but that doesn't mean Abercrombie, who at 23 is almost seven years Penney's junior, will continue to live in his shadow.
Although still an emerging talent, Abercrombie is poised to take the ANBL by storm with his wow-factor brand of above-the-rim hoops when the Breakers' season starts in Sydney on Saturday night. "If I could have half the career Kirk has had I'd be happy," Abercrombie says.
Given his ability, he's setting his sights low there. One of the stars of a solid Tall Blacks' campaign at the world championships in Turkey, Abercrombie's 12.7 points per game were second to Penney. He was also the side's top rebounder, his 6.8 per match ranking him 14th at the tournament.
Great numbers for a kid in his first major international tournament, but numbers he'll certainly surpass in years to come.
Unfortunately for the Breakers, the current dream scenario of Penney in his prime while Abercrombie approaches his own appears unlikely to last beyond this season. Abercrombie's efforts in Istanbul didn't go unnoticed. Europe - where Penney spent three seasons - beckons.
"Obviously I was contracted to the Breakers this year and I am fully committed to being part of that," Abercrombie says.
"But if that wasn't the case, there certainly would have been chances for me to go overseas this year. I am sure those chances will be there next season.
"I've always wanted to go and test myself over in Europe. Hopefully next season if I get that chance I'll have a go at it."
Resigned to losing him would be overstating the club's position - but not by much. The fact top young players they help develop will almost certainly leave in the prime to pursue greater opportunities abrad is the harsh reality for a New Zealand-based club. It's a problem for which there doesn't appear to be an easy answer.
For this season, at least, it seems the Penney-Abercrombie axis will be intact. Having spent the bulk of his pre-season knowing he might be about to step into Penney's shoes, Abercrombie is relaxed about his burgeoning star status. "I think that's something that will come if I can keep playing well.
"I'm just trying to focus on doing what I'm doing. As long as I can keep playing well and keep taking my chances those other things will just happen. I still think there is a lot I can get better at and, for now, that is my focus."
Abercrombie also knows his days of catching opponents by surprise are over. After easing his way into the league in his first two seasons he has now cemented his place as one of its premier talents. "I'm looking forward to the challenge of being a bit more of a marked man. Teams know a bit more about me now and what I can do. They are going to focus on me and that brings a whole new set of challenges."
The improved shooting he displayed at the world championships was the key to taking his game to a new level.
"Shooting is such a confidence thing. I am shooting the ball with confidence now, so whether it goes in or it doesn't, I expect to make every shot. It is a mindset Kirk always has. He always believes the ball is going in.
"When I can knock down that outside shot, it opens up so much else for me. I am pretty good at getting to the rim and playing above the rim and that part of my game becomes so easier when the outside shot is going down and teams have to respect that."
Turning his back on his college career after two years of frustrating inactivity may have seemed a risky move but the ANBL has been good to Abercrombie. In college he was just one of many players with an outrageous aerial game. In the ANBL, his dunks, blocked shots and trademark alley-oop set him apart from the crowd.
"My game is a bit more unique in this league. In college there were a lot of other people who played just like me. I've been able to differentiate myself from a lot of other players."
Which was something he also did in Turkey. Having put himself in the shop window, Abercrombie is sure to find a suitable buyer sooner rather than later.
For now, however, he is happy to appreciate the comforts of home.
"It has rejuvenated my enthusiasm for the game, which I had lost over in college while I was away from home sitting on the bench and not really enjoying myself much.
"It was a breath of fresh air, having that freedom off the court to be around friends and family again. And on the court playing with familiar faces, old friends and a really supportive coaching staff really helped me out.
"The Breakers have helped me grow so much. I have grown as a basketball player immensely and I owe a lot to the coaching staff here. I wouldn't be where I am without their input."
Which again sounds a bit like a farewell speech.
If this is to be his last season as a Breaker, Abercrombie will be desperate to go out a winner. Last season's blown chance, when the team won its final six games but missed the play-offs thanks a to a horror mid-season slump, still rankles.
"It was very frustrating. You sit there watching those playoffs and you just know we could have beaten any team there the way we were playing. But it was no one's fault but our own."
With Abercrombie and Penney both suiting up the Breakers will again be one of the title favourites, but time may well be running out for the dynamic North Shore duo.
Thomas Abercrombie:
* Born: Auckland
* Age: 23
* Height: 1.98m
* Weight: 87kg
* Position: Swingman
* College: Washington State University
* Clubs: NZ Breakers, Waikato Pistons
NBL stats:
* 2009 Games: 13 Points: 52 Rebounds: 24 Assists: 5 Steals 1
* 2010 Games: 24 Points: 205 Rebounds: 90 Assists: 28 Steals 19