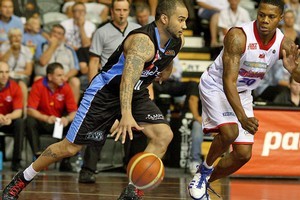 With their first game in Sydney looming large on Saturday NZ Breakers Head Coach Andrej Lemanis is taking his usual calm 'game by game' approach to the new NBL.
Unlike last season when the Breakers were tipped by bookies, media and opposition as favourites to win the championship, the Burger King sponsored side is this year flying a little more under the radar with Perth having to bear that burden of expectation. And that suits the quietly spoken Lemanis just fine as the Breakers prepare for their opening game in Sydney on Saturday night.
"We never get carried away with what the the season might bring, for us it is the same principle of one game at a time and concentrating on doing our jobs and getting better every day.
"The good thing about this group of players and coaches is the fact no one is overly anxious or nervous about the start to the season. We know what we have to do and the roles we play within the group. We are ready for the weekend and looking forward to it."
Lemanis has been open and up front about the style of game people can expect from the Breakers this season and has recruited accordingly, with fans in for a running treat at home games.
"We will play an up tempo game that suits the players we have on the roster. We might be smaller than many of the teams in the league this year but that fits the pace at which we want to play. We played a similar style in our run home last season when we won six in a row, this year the personnel is even more suited to that type of game."
That personnel now includes former Breaker Mika Vukona, the high energy forward returns to the club after two seasons away while American import Gary Wilkinson has impressed in the pre-season with his energy and scoring accuracy, fitting into the team quickly and effectively.
Meanwhile Breakers guard Paul Henare has seen plenty in his time at the club and experienced all the highs and lows along the way, the foundation Breaker is embarking on his 8th and final season in the Australian National Basketball League and believes the current roster is as good as any he has played with in that time.
"When I told the boys my news that this would be my last season I did say I wanted to go out this season with a bang. Gary Wilkinson comes in and is kind of a mix between Tony (Ronaldson) and Rick (Rickert) and has a great shooting touch and is an exciting prospect for us.
"Kevin (Braswell) returns as well and is looking forward to a full season in Breakers colours. In pre-season it has shown that while we are a small team we can get up and down court at speed and bring someone like Mika in the group with his enthusiasm and hustle, he is another great guy to play with and we truly believe that we have a group together that can go the whole way.
"One of the changes this year is the three point line moving out a little in keeping with the NBA and while that might change some of the shooting stats, it also keeps teams a little further out on defence. Players tend to navigate towards that three point line when on defence and given this is now a foot further out, it opens up some more room inside for quick teams to cause some damage."
With the timing of Kirk Penney's return to the Breakers still uncertain, the club has added Wellington Saints Leon Henry to the roster as cover for the opening game in Sydney. Henry has been training with the team for some weeks and was in Darwin for the pre-season Top End Challenge so knows the play book and his team mates. Henry will play in 00 for the season opener in Sydney on Saturday and be available should Penney not return in time for next Wednesday night's first home game against the Perth Wildcats.
There is still no definite return date for Penney, with Breakers General Manager Richard Clarke corresponding with the shooting guard and keeping tabs on his pursuit of further NBA offers following his release from the San Antonio Spurs.
Clarke will be available along with players and coaching staff for comment on the season following training at Atlas Place Gym today at approximately 11.45am.
- Herald online